Success at the Longwell Green and Kingswood Music Festival!

| | |
| --- | --- |
| Type of post: | Chorus news item |
| Sub-type: | No sub-type |
| Posted By: | Kathy Farrell |
| Status: | Current |
| Date Posted: | Sun, 5 Nov 2023 |
Black Sheep Harmony have rounded off a very successful autumn by winning not one, but TWO cups at the Longwell Green and Kingswood Performing Arts festival.
Following our wonderful retreat at Dunster, many of us were suffering from coughs and colds but luckily most had recovered enough to be able to put on two distinction winning performances. There were some who were still too poorly to join us and we really missed you, but special thanks to Kathy who left her sick-bed to support us by sitting in the audience even though she couldn't sing.
The Black Sheep looked great in individual black outfits unified by lovely corsages in our new colour palette of blue and green.

Our first performance was in the Barbershop class where we sang two classics, 'Love of My Life' by Freddie Mercury followed by Lennon and McCartney's 'Blackbird'. The adjudicator really appreciated our "careful, syncopated singing, amazing chording and superb balance". He was impressed with both our "vibrant full sound" and the "intimacy" of our quiet singing. He particularly enjoyed our "fabulous major 3rds" and mentioned the "great solo". He also said how lucky we are to have such a talented and visionary MD in Pete Nooj Nugent! We were thrilled to achieve a distinction with a score of 87% and to be the proud winners of the Christopher Jennings Trophy.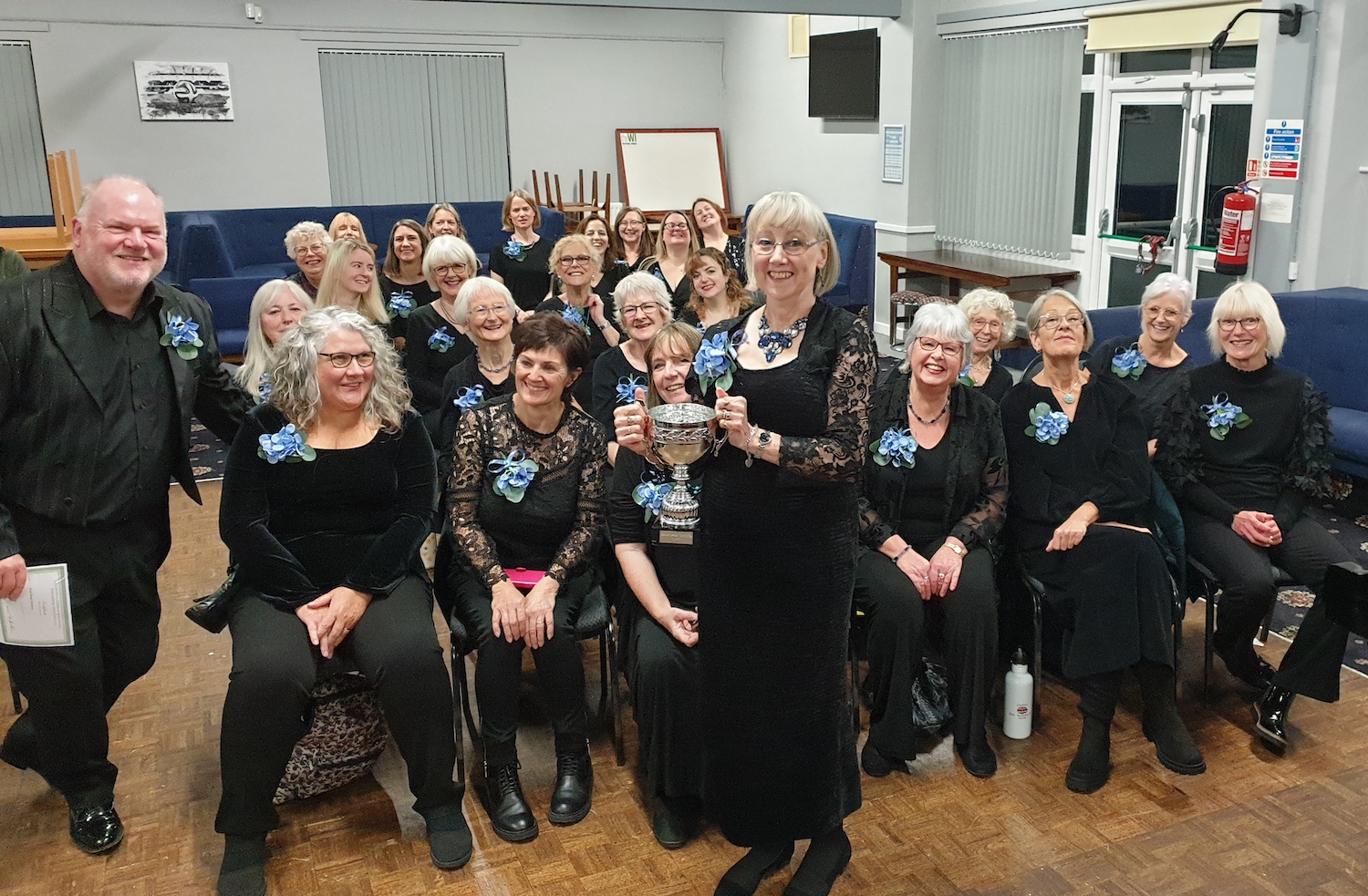 Our entries in the second class, the Auditioned Choir, were Guy Garvey's 'One Day Like This 'and Robin Pecknold's 'White Winter Hymnal' arranged by Herman Zimmerman. Two gorgeous songs, both of which have their own particular challenges.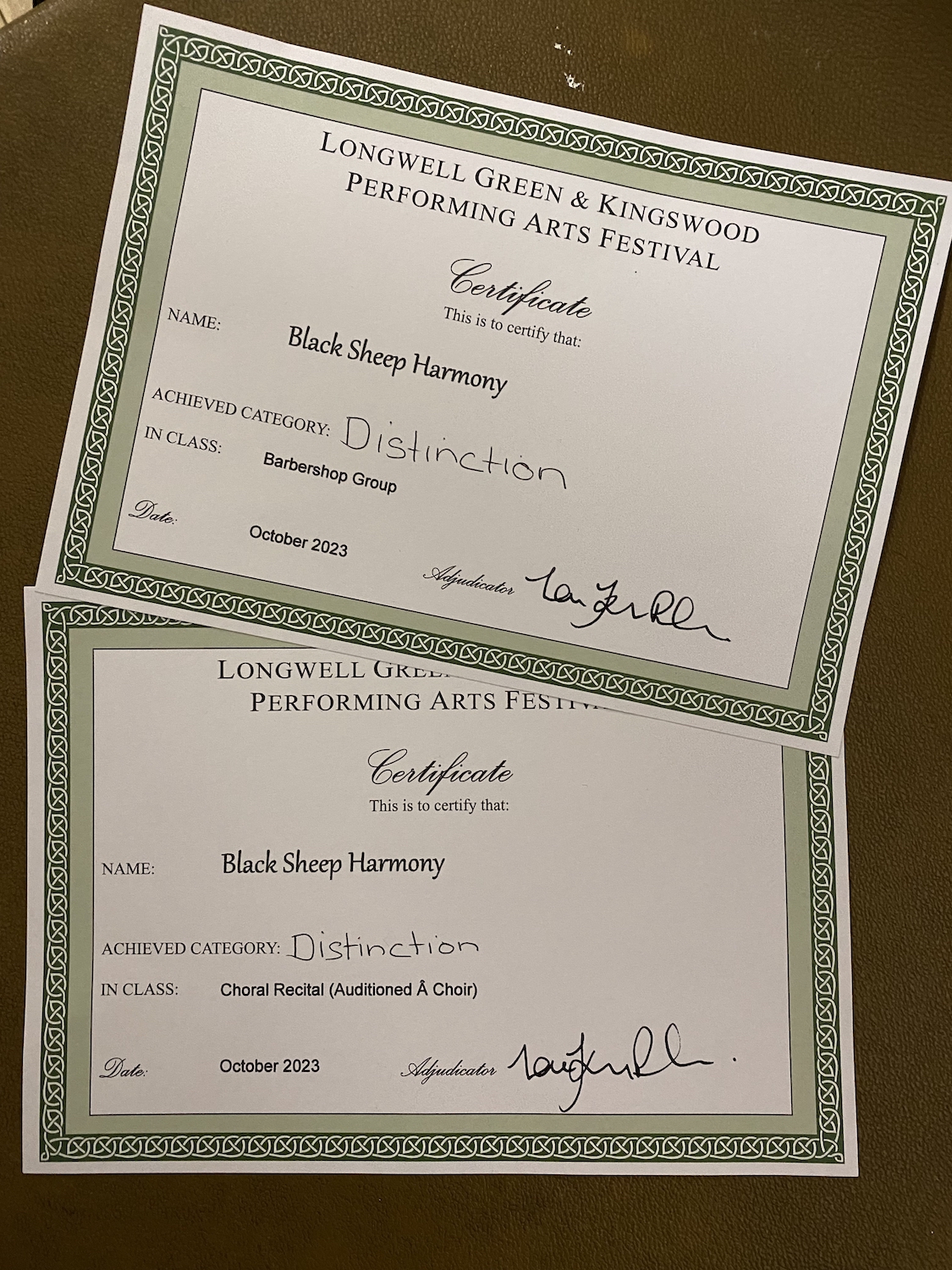 One Day Like This is a huge song which was originally arranged exclusively for Black Sheep Harmony by Jason Wilson in eight parts, nine if you include the solo, which results in a lush, full sound. The adjudicator was particularly impressed with the "dynamic weighting of the accompaniment", the "well balanced complex eight-part chords" the "great solo" and the "brilliantly handled tricky harmonic shifts".
The challenges of White Winter Hymnal are of a more physical sort with choreographed clapping and slapping. A group of five sat at the front of the stage and performed individual hand clapping, thigh slapping, finger clicking routines which come together to create a stunning visual and rhythmic accompaniment to the beautiful chorus singing. Comments were "BRILLIANT", well-handled parallel harmonies and "wonderful moments of lightness and joy".
The adjudicator again really appreciated the work that had gone into these two songs and Pete's excellent direction. He awarded us another distinction with another excellent score of 87% and we held aloft the Robin Tyacke Trophy!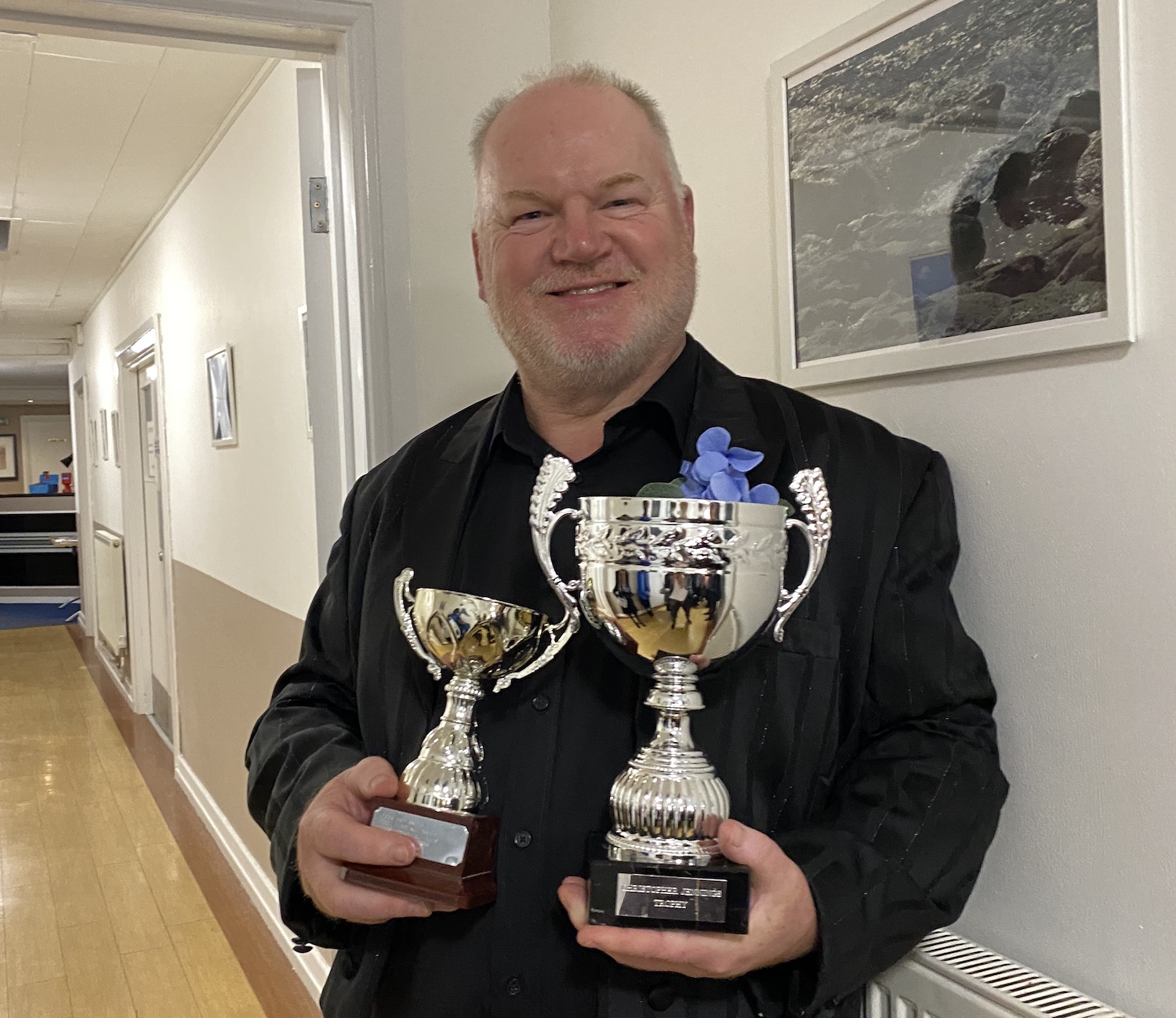 It was a really rewarding evening finished off beautifully with a mini-afterglow at the local. Your author even saw a shooting star whilst on the way home, which seemed like heavenly approval!
Sue Davis