Black Sheep Harmony's first annual (?!) retreat!

| | |
| --- | --- |
| Type of post: | Chorus news item |
| Sub-type: | No sub-type |
| Posted By: | Kathy Farrell |
| Status: | Current |
| Date Posted: | Wed, 1 Nov 2023 |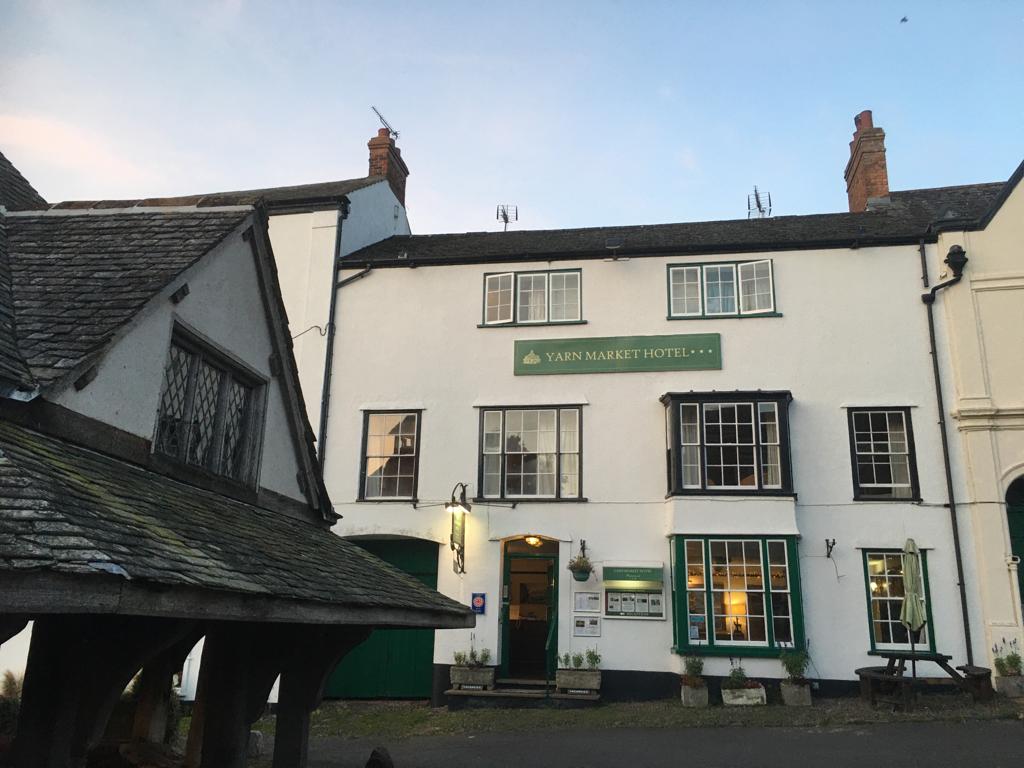 And the second of the autumn 2023 events... the first Black Sheep Harmony retreat in the lovely little town of Dunster. We stayed in the charming Yarn Market Hotel where we were looked after like VIPs with excellent hospitality, very nearly full board and a variety of pretty bedrooms with views of the quaint little village of Dunster.
We all arrived in groups throughout Friday in time for an aperitif at the Luttrell Arms (where we sang to an appreciative audience in the covered courtyard) before dinner at the hotel and of course, we sang for each other and the staff! The hotel is very experienced in hosting singing (and other) groups for retreat weekends, so our songs were enjoyed, even expected! The evening was rounded off beautifully with a nightcap in the cosy hotel bar.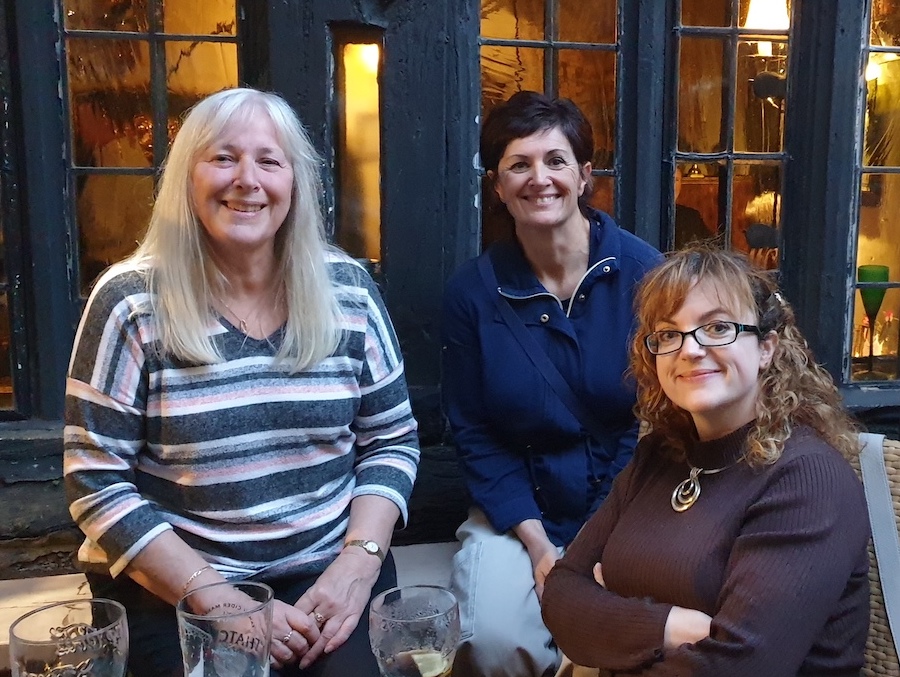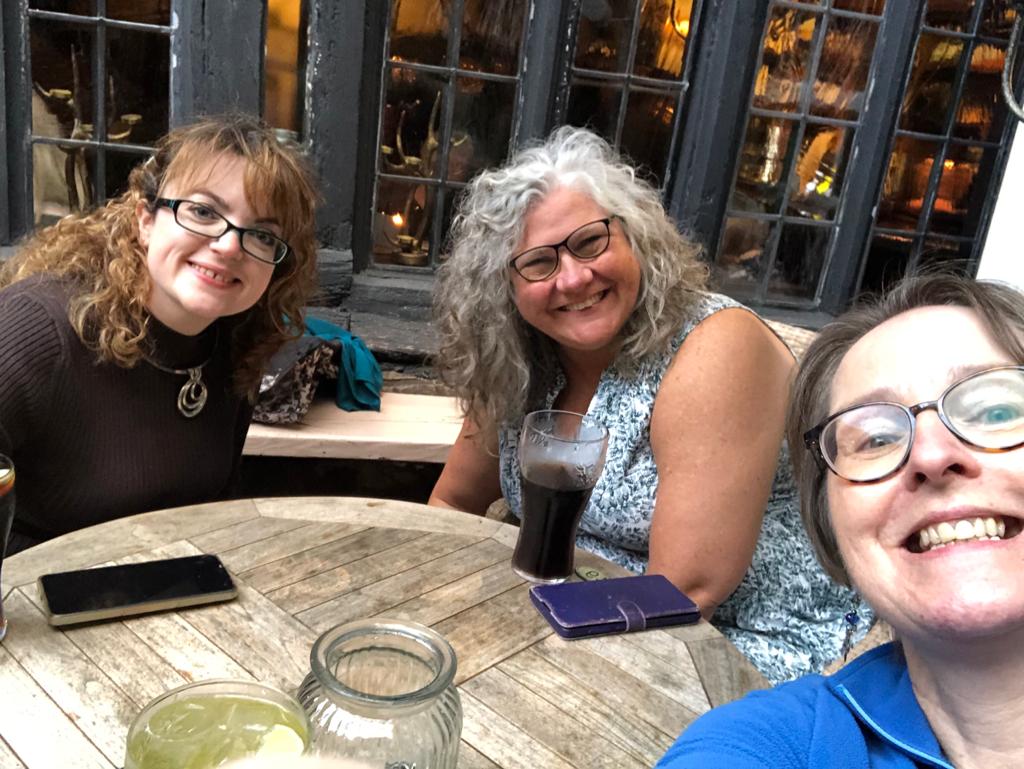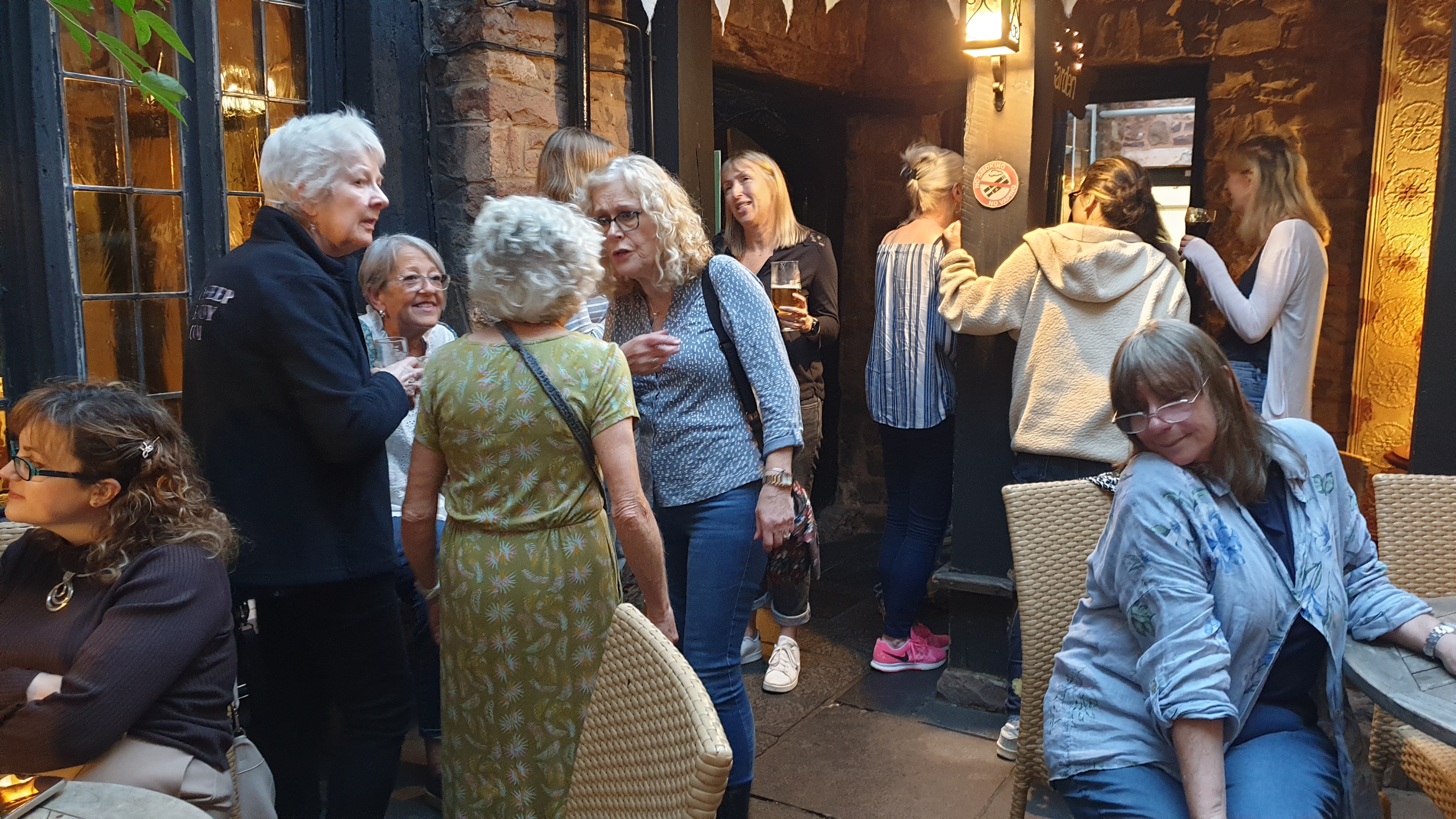 Saturday dawned, a beautiful late autumn day. Pete Nooj Nugent took on the coaching duties when our original coaches had to drop out due to illness, and we did some really good work in preparation for the upcoming Kingswood and Longwell Green music festival.
The hotel had a large hall available for our coaching session and even allowed us to arrange our own buffet lunch.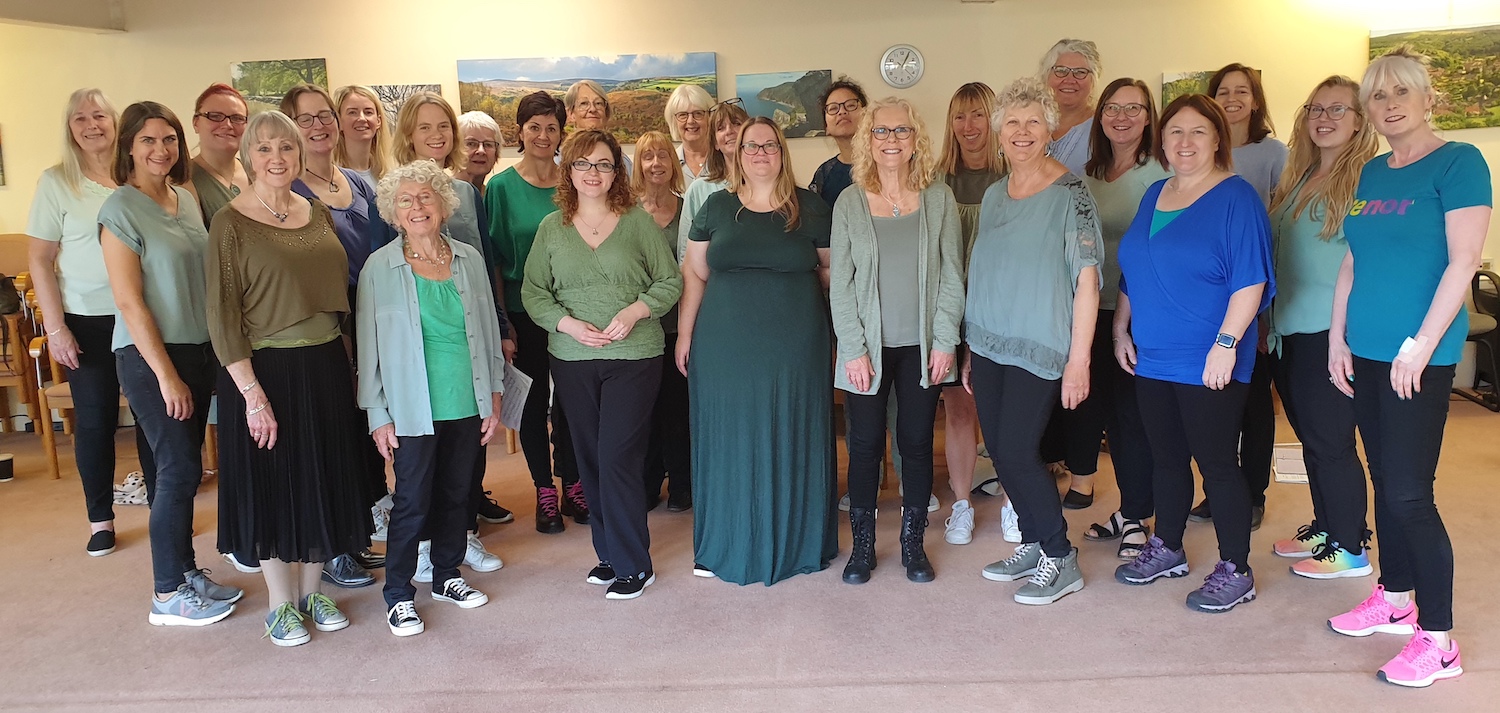 After a late, lazy lunch, we sang in the actual yarn market in the centre of the village, directly outside of the hotel, where an audience of shoppers and tourists cheered us on, enjoying the unexpected entertainment on a sunny Saturday afternoon.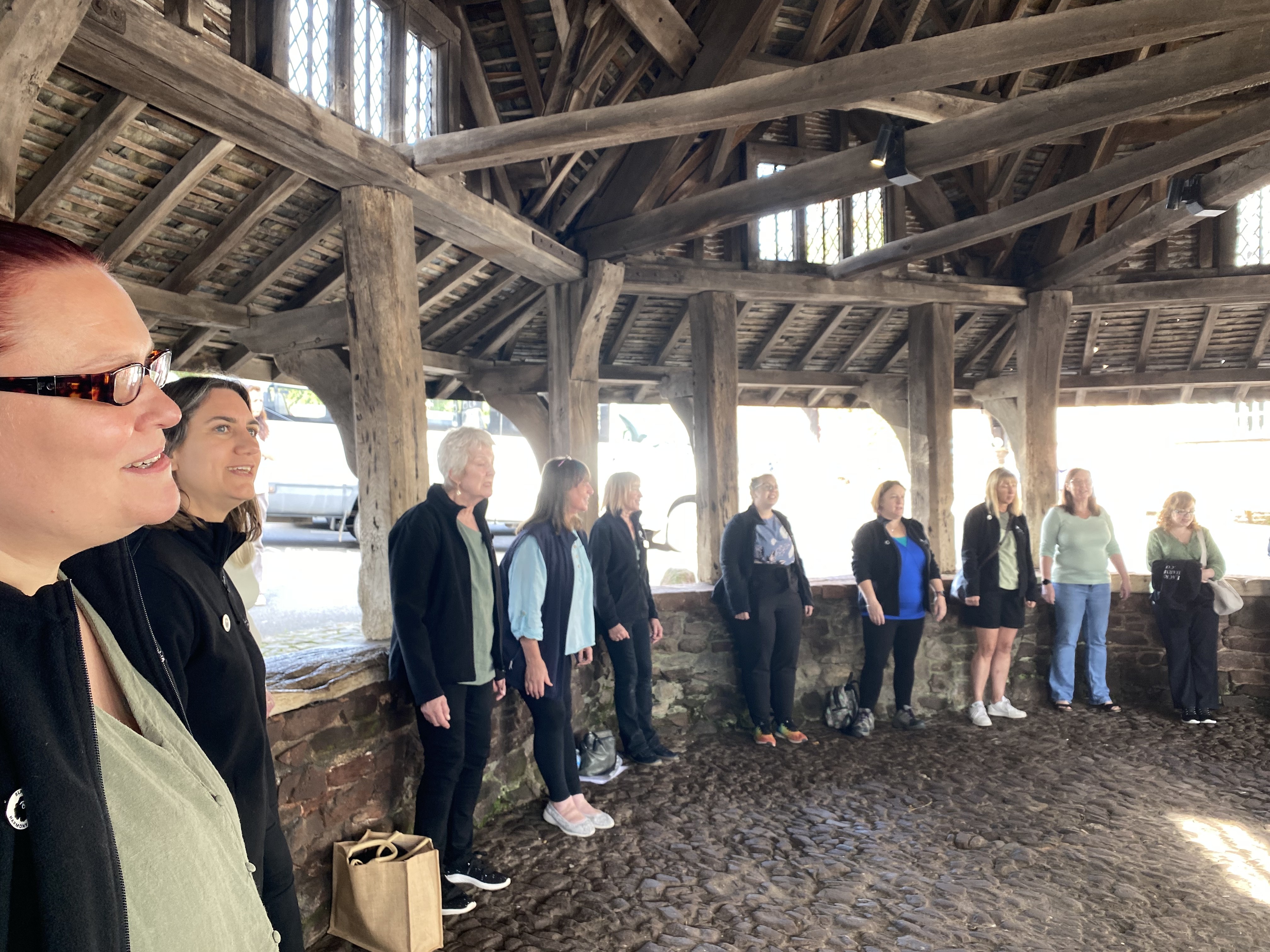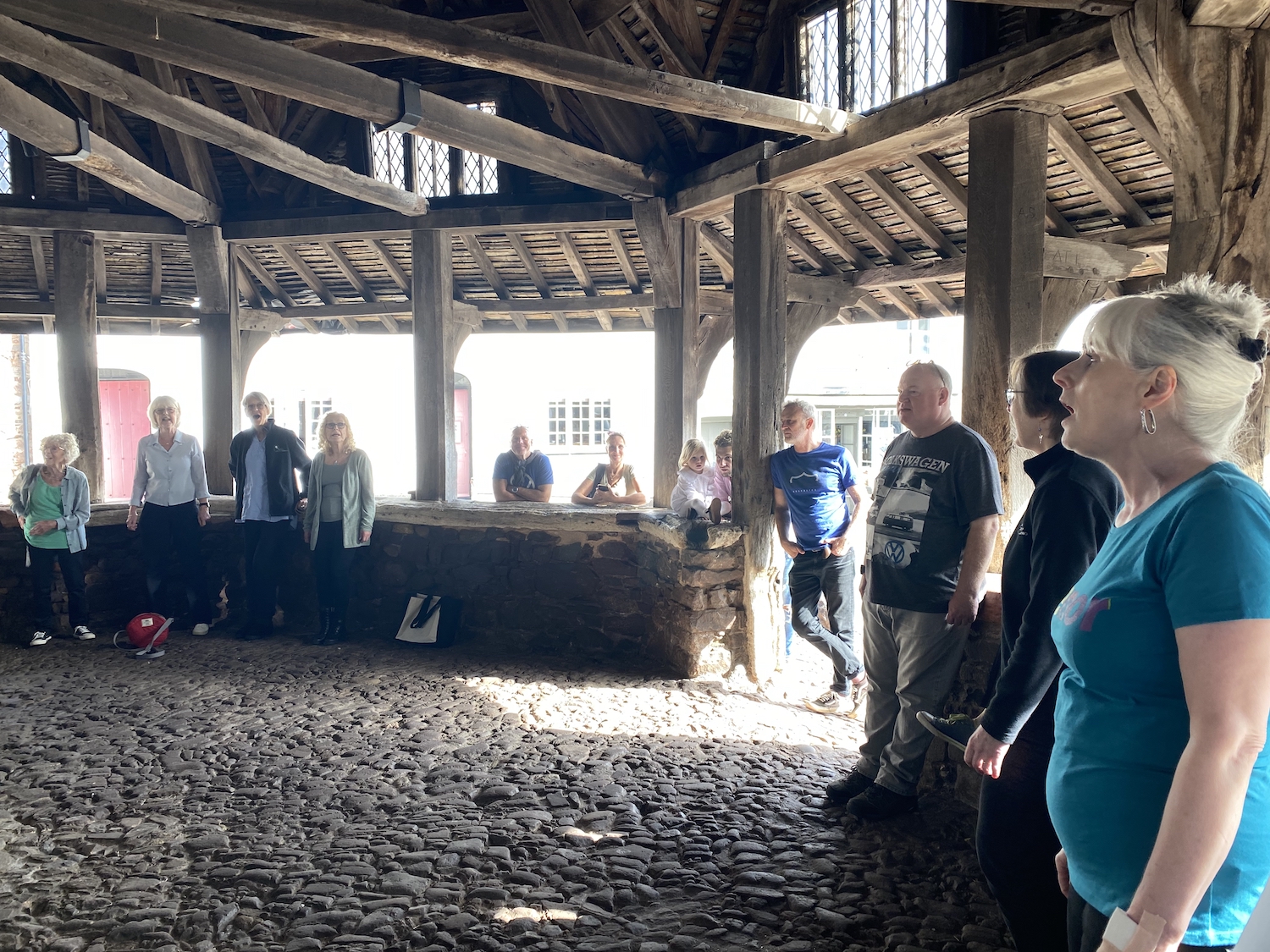 Later in the afternoon the Sheep explored the village, strolling in the unseasonably warm but gorgeous sunshine to the impressive church, the gardens, the castle and the quaint and quirky little shops and cafes. There may have been a visit to the pub by some, I can't say either way!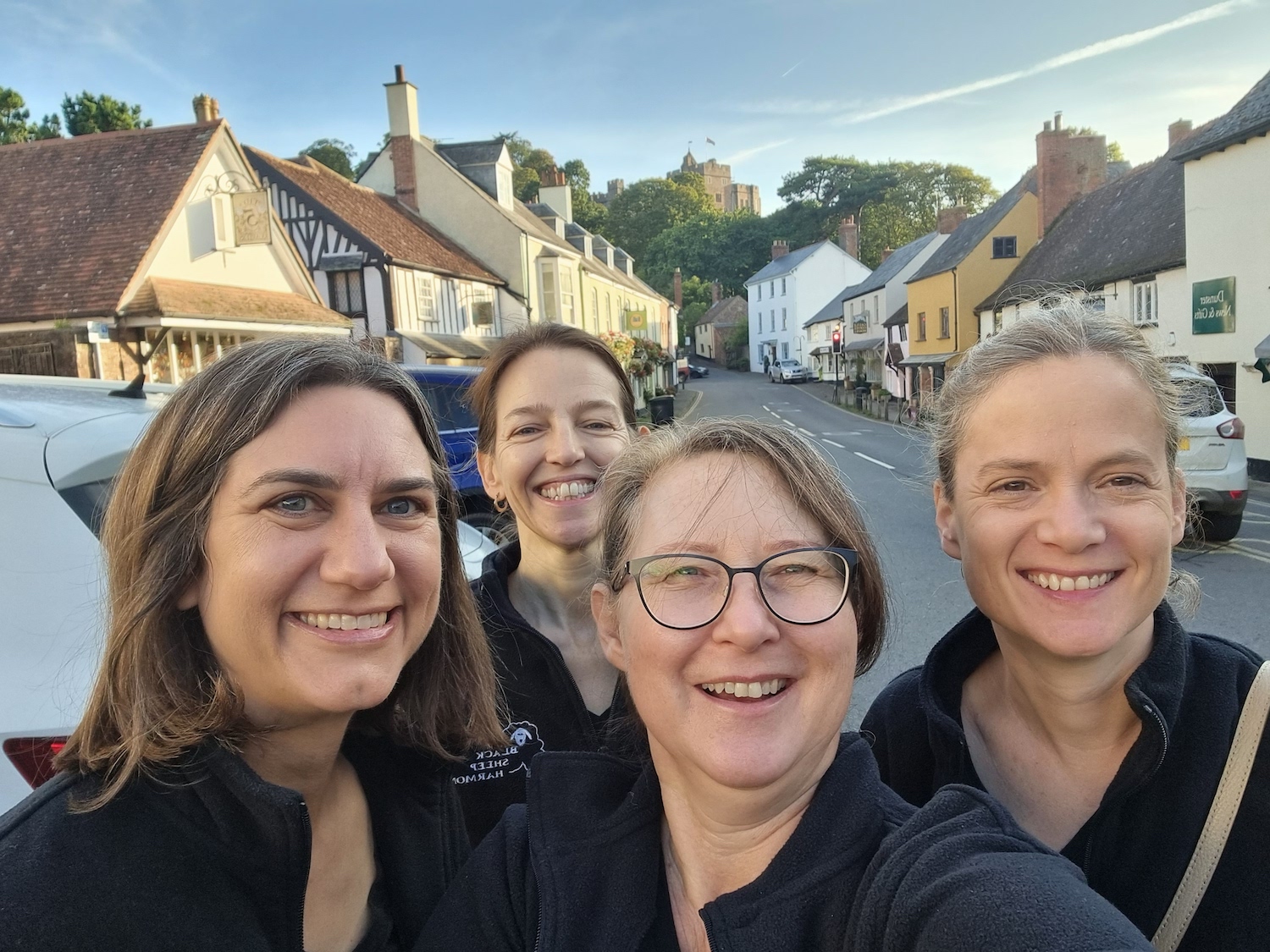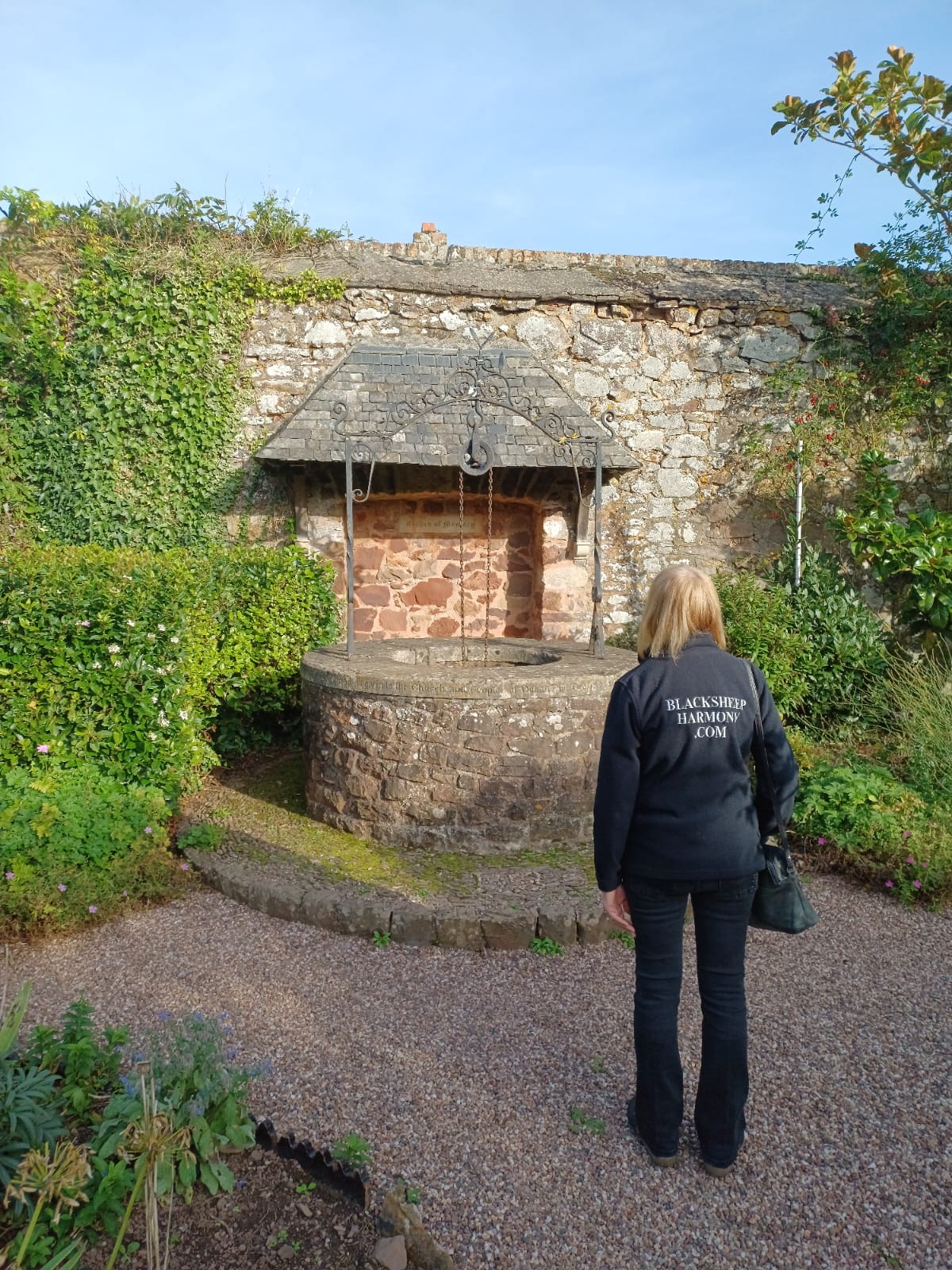 Dinner was again at the hotel and there was a particularly poignant moment when we sang "Anthem" for a couple of the chefs who are refugees from Ukraine.
After dinner we entertained ourselves with a spectacular(!) show which went so smoothly thanks to Andrea Gealer and her excellent organisation. We were treated to a real variety of entertainments and activities.
I'm so proud of my baritone section, Sophie, Debbie, Caz, Cat and Hannah for throwing themselves into "The Wellerman" and singing through all that facial hair! We sang the sea shanty dressed as mariners (kind of) with lush beards and plenty of props, huge fun well received. The beards were ok after we'd trimmed them to prevent beard inhalation!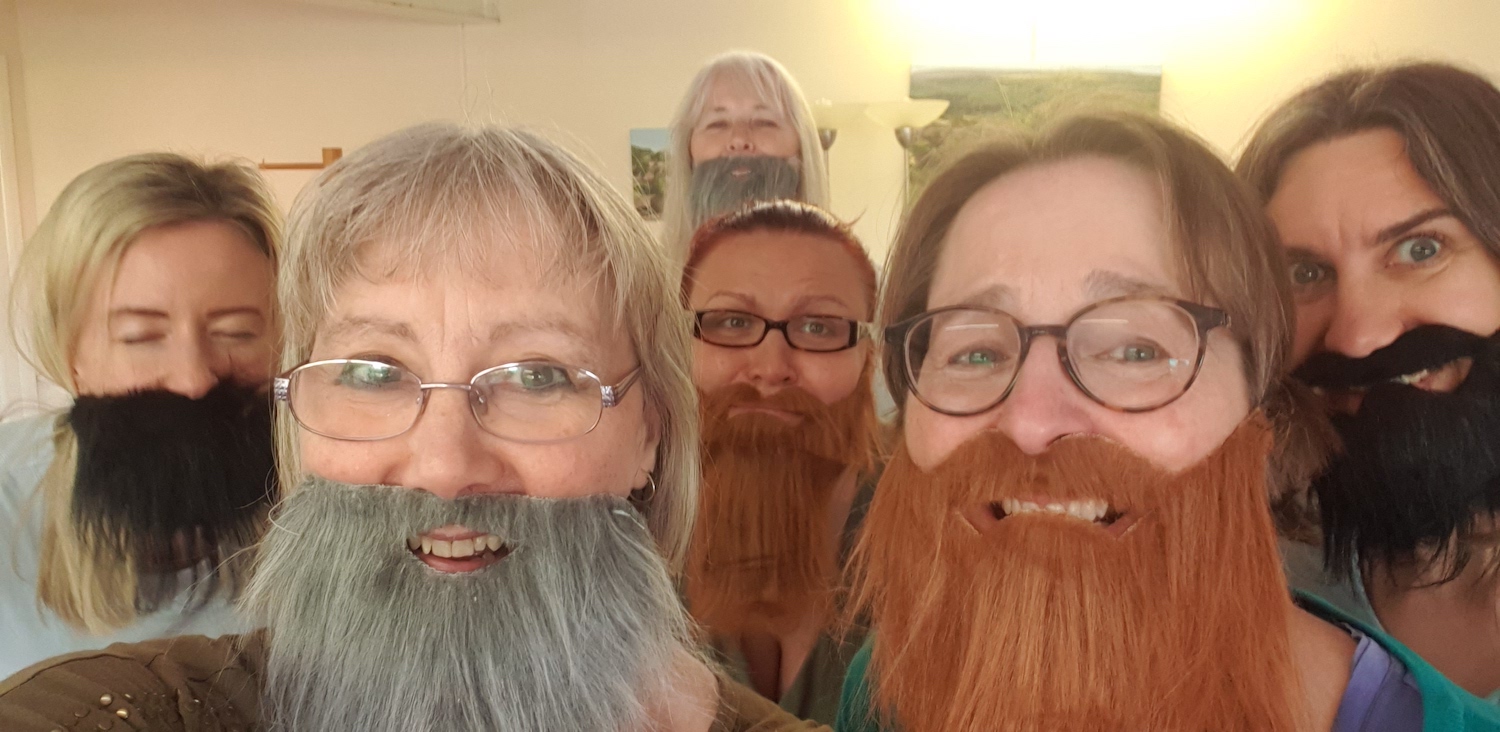 The Bog (Bass and Frog) chorus was hilarious and well done to Noey for rewriting "The Frog Chorus" to explain the bass riser experience to the rest of us more wordy sections (bom, bom-bom). It was joy to behold the bass section dressed as they were in cute zippy frog hoodies, very attractive green tights and matching green rubber glove feet. An impressive sight.


We learnt circus and bandaging skills with Debbie Teml. People were invited to learn how to make a balloon dog - not all of the creations were completely canine - one was suspiciously saucy but what happened in Dunster stays in Dunster. A group of us had broken arms so needed triangular bandages applied, not always successfully! Finally, we had a lesson in plate spinning which was much harder than Debbie made it look. Medals were even handed out to the "winners".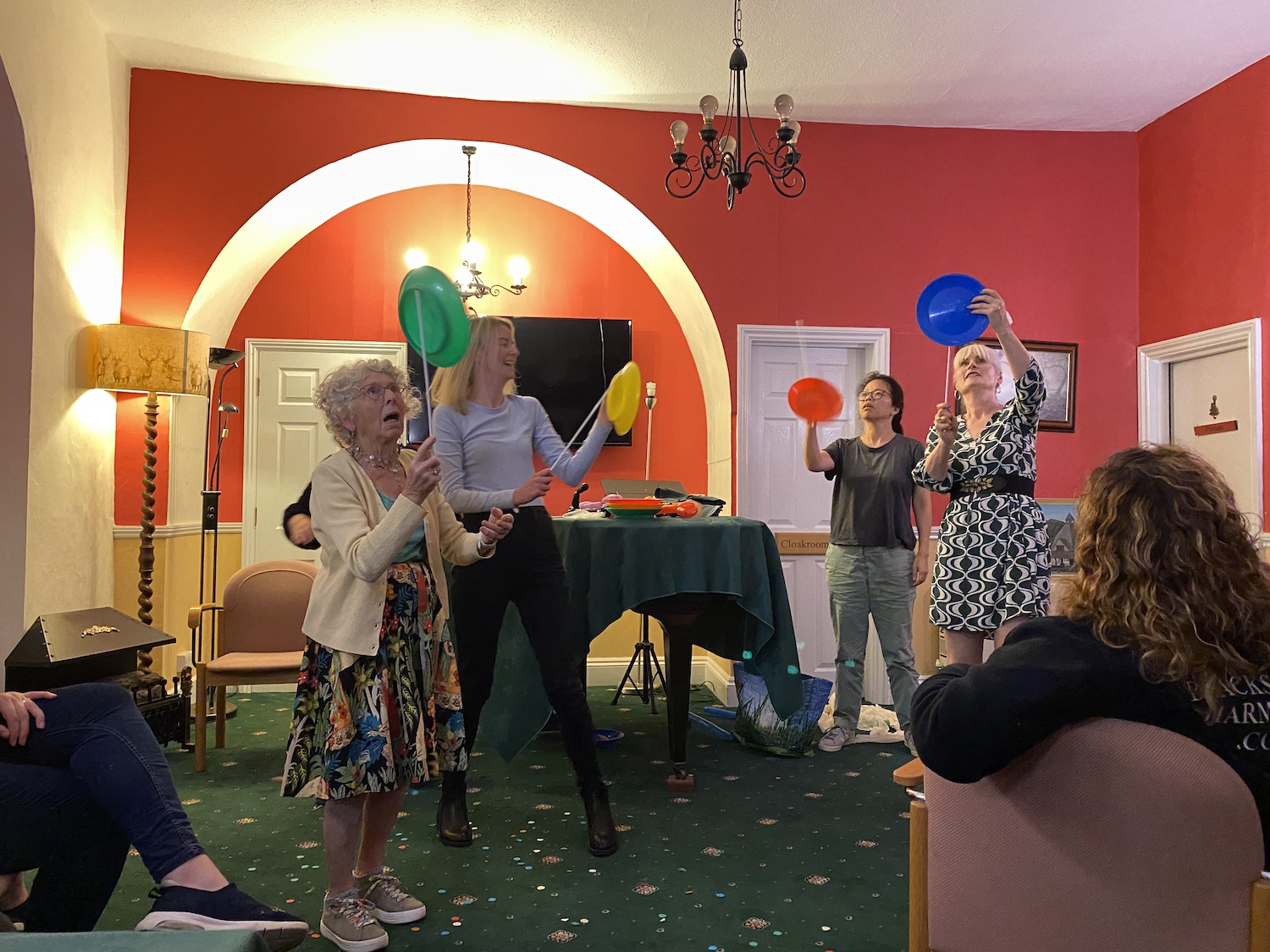 We had a lesson in anatomy with Kathy (what a performer you are, Kathy... brilliant!!).singing Cole Porter's The Physician, a comedy song originally performed by Gertrude Lawrence in the musical "Nymph Errant".
There was a spot of family history with Sandra who entertained us with a song that she used to sing at family parties when she was younger. Even after the passage of a number of years, Sandra still remembered the words to "Grandad's Flannelette Nightshirt" by George Formby from his 1940 film "Let George Do It". His recording of it was released in 1941, but I reckon Sandra's was more entertaining!
We also had songs from the shows from Debbie Cottrell and Sally Ball, who gave us a lovely performance of the duet "I Know Him So Well" from Chess, complete with hairbrush mics.
There was also a bit of unexpected devilment from Jo Slateford which I'm not going to go into, but you know what I mean, Jo!
The interpretive mime from Pete was particularly impressive, and very entertaining. Pete's enactment of the lyrics to Natalia Imbruglia's "Torn" was incredible and the results were hilarious and occasionally slightly naughty but always conveyed with commitment.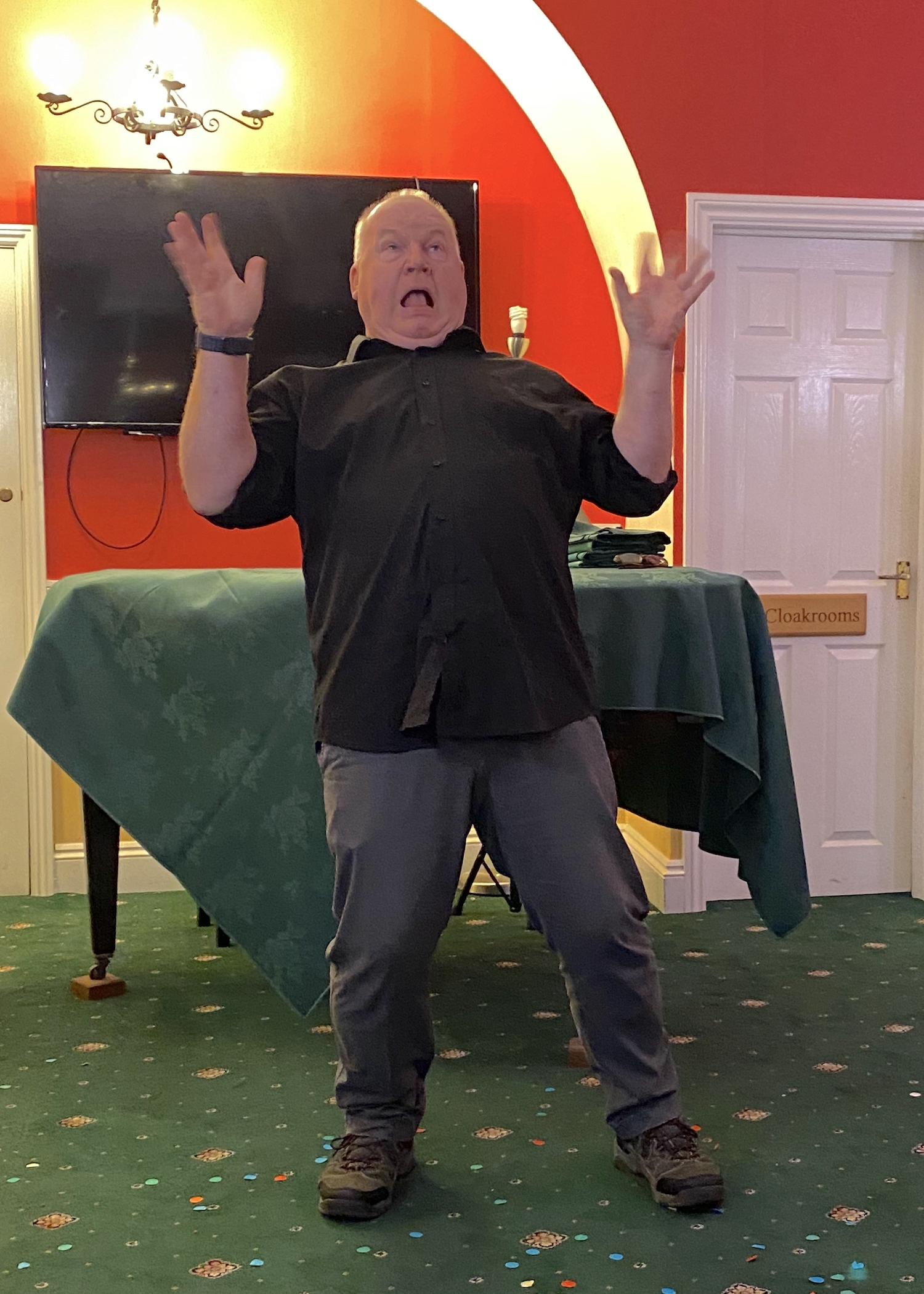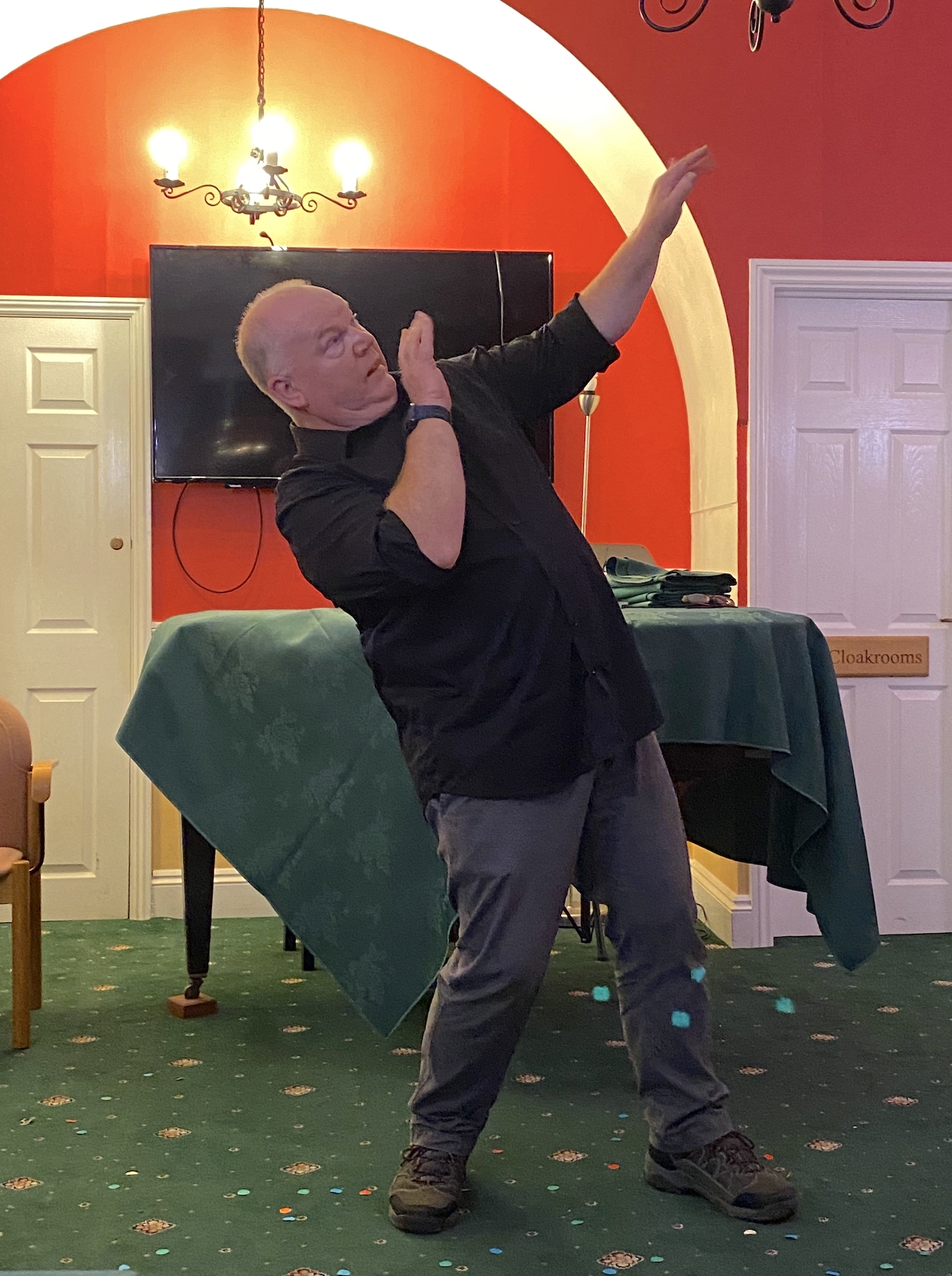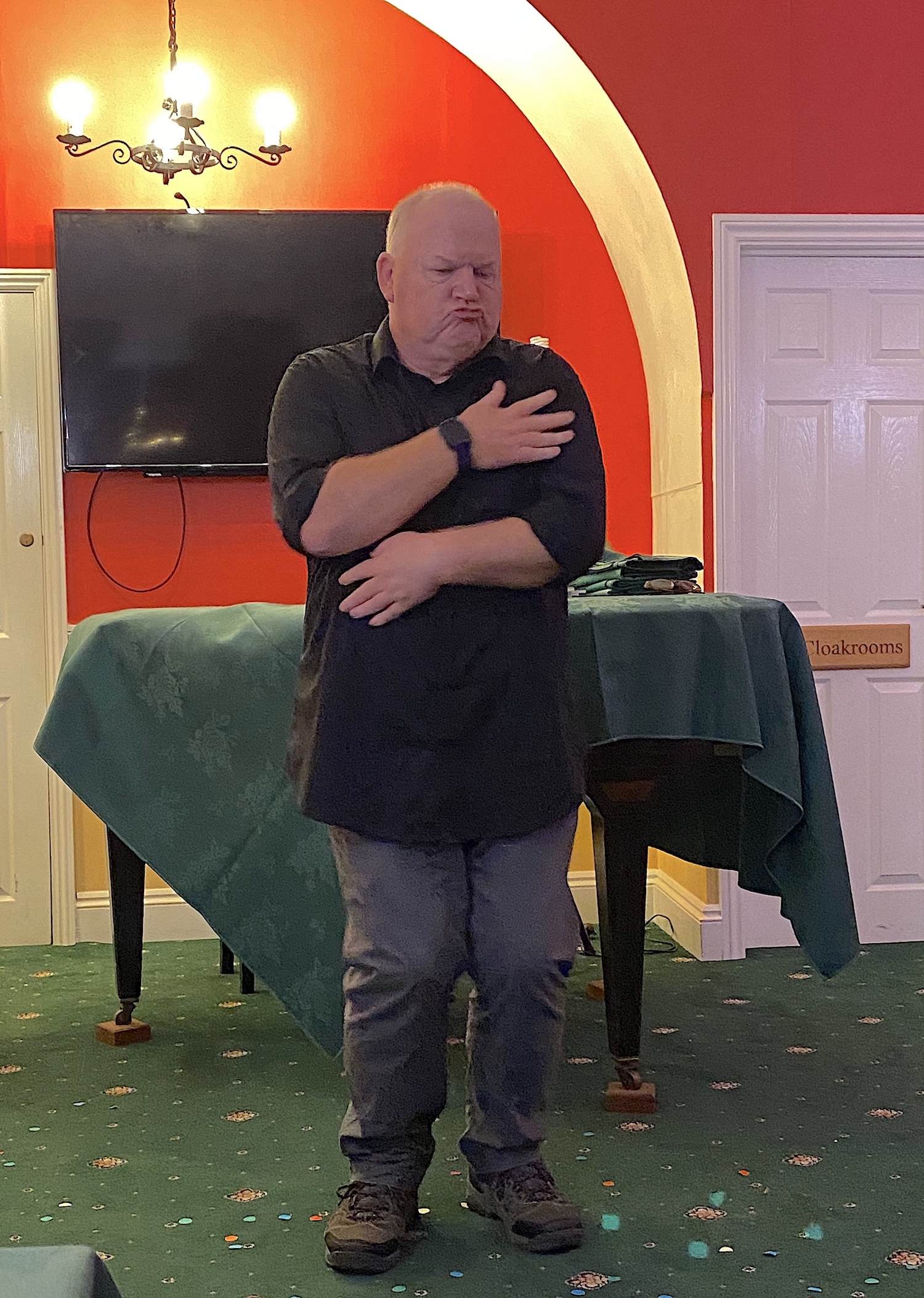 SongSmiths opened and closed the show with "For Me and My Gal" and "Feeling Good" respectively.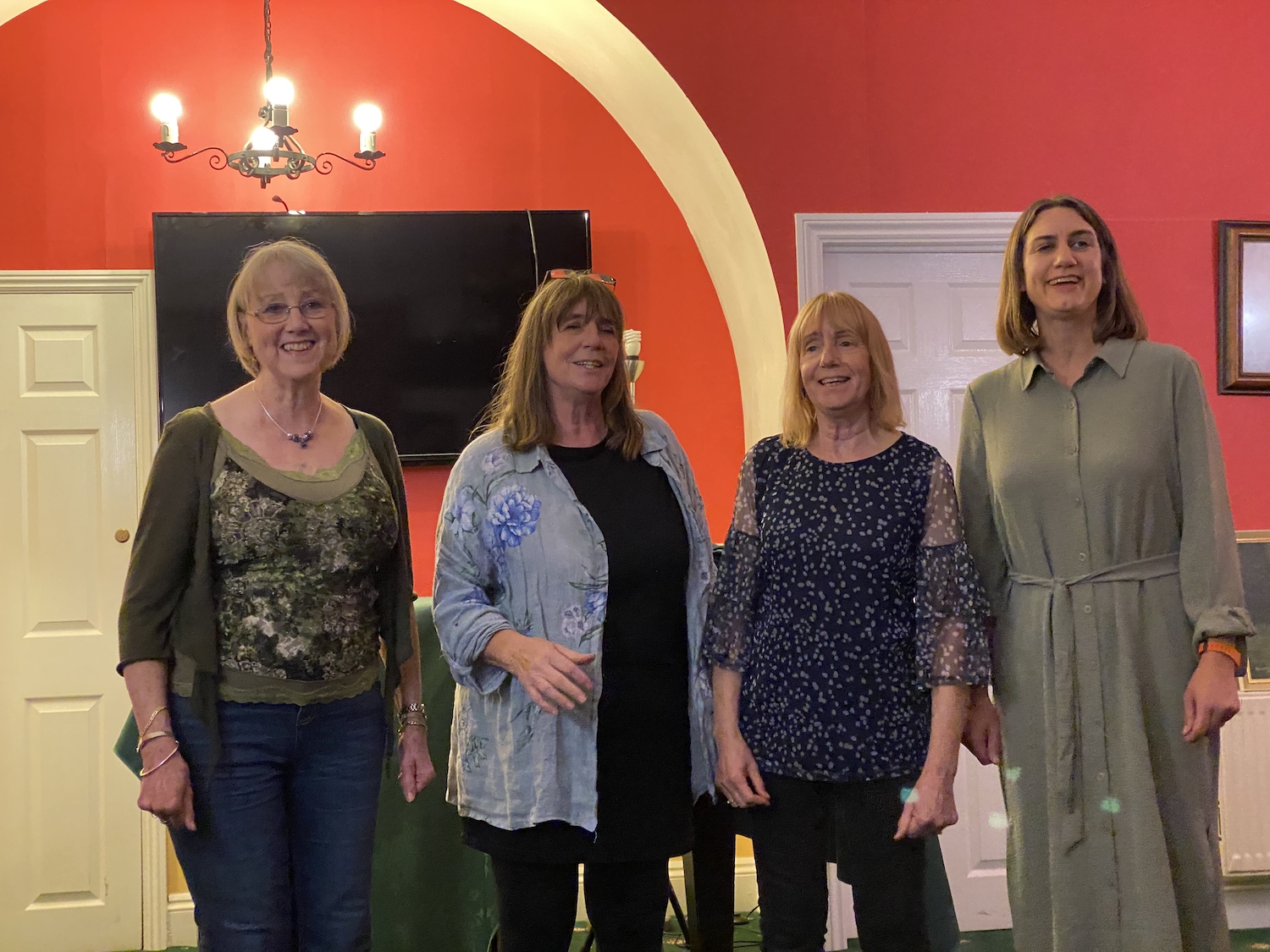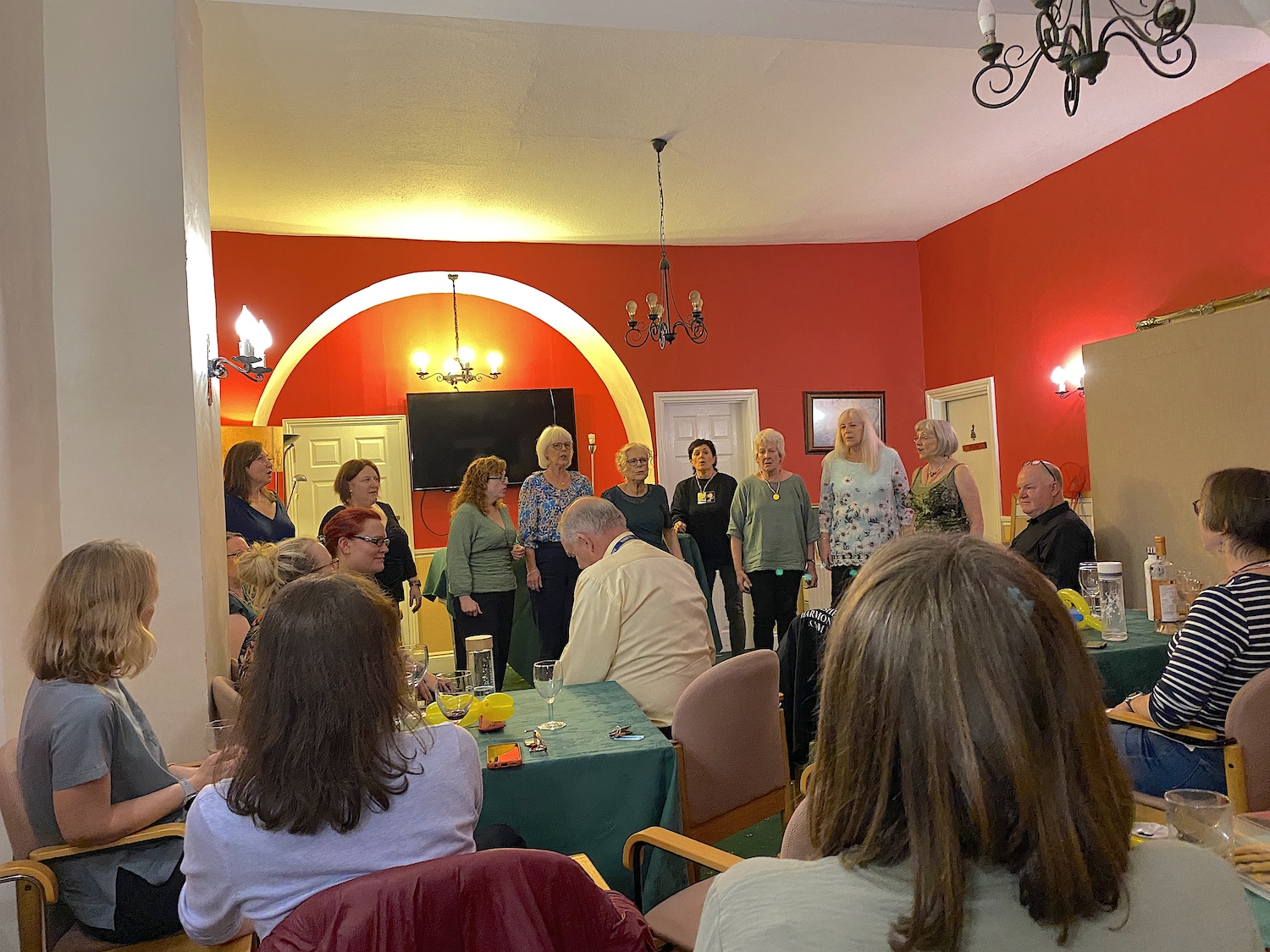 The evening finished with various excellent scratch quartets and octets singing chorus repertoire songs. It was such a great evening!
It was very sad that due to sore throats and colds, Kate and Hannah weren't able to perform and others struggled, but there will be more opportunities!
On Sunday we collected the packed lunches provided by the hotel and drove to Bishops Lydeard station for a lovely steam train journey on the West Somerset Railway. We had a little wander around Minehead; ice creams and a promenade along the front in the sunshine were the order of the day. No surprise that we sang in the train and on each platform we walked on - every platform was a stage! There was even an extra platform to sing on as we had to stop along the way due to a breakdown, but this just added to the fun as we had more singing and photo opportunities alongside the steam engine. The quiz on the train organised by Debbie T was excellent fun and we learnt something about everyone when we all shared a secret.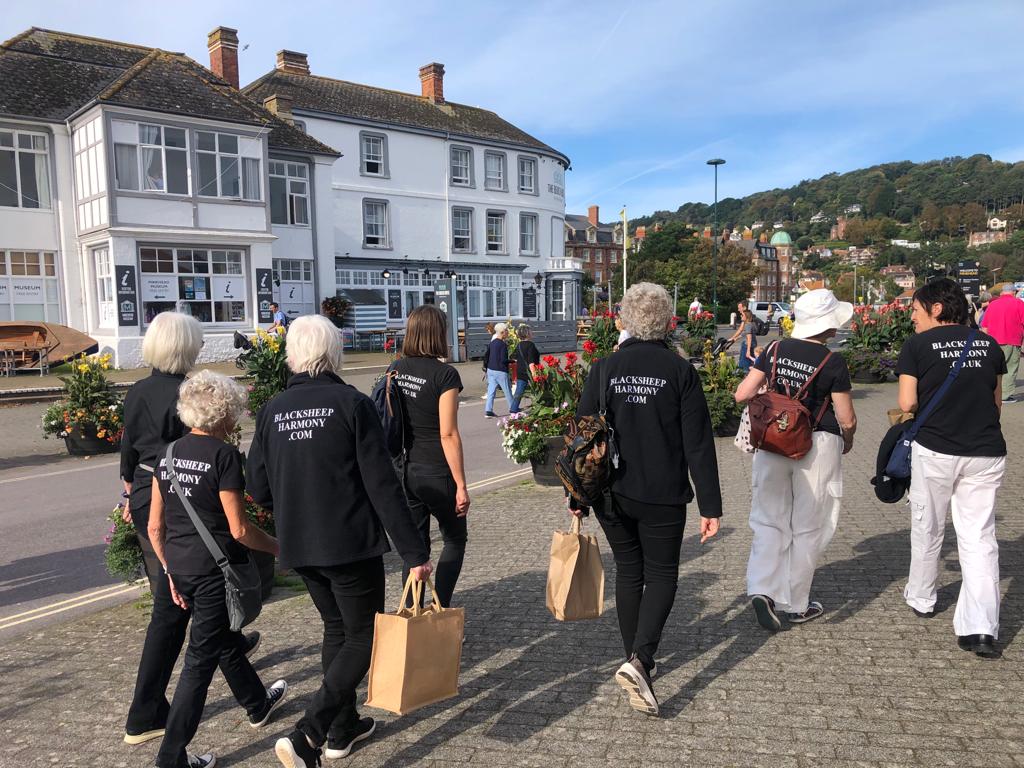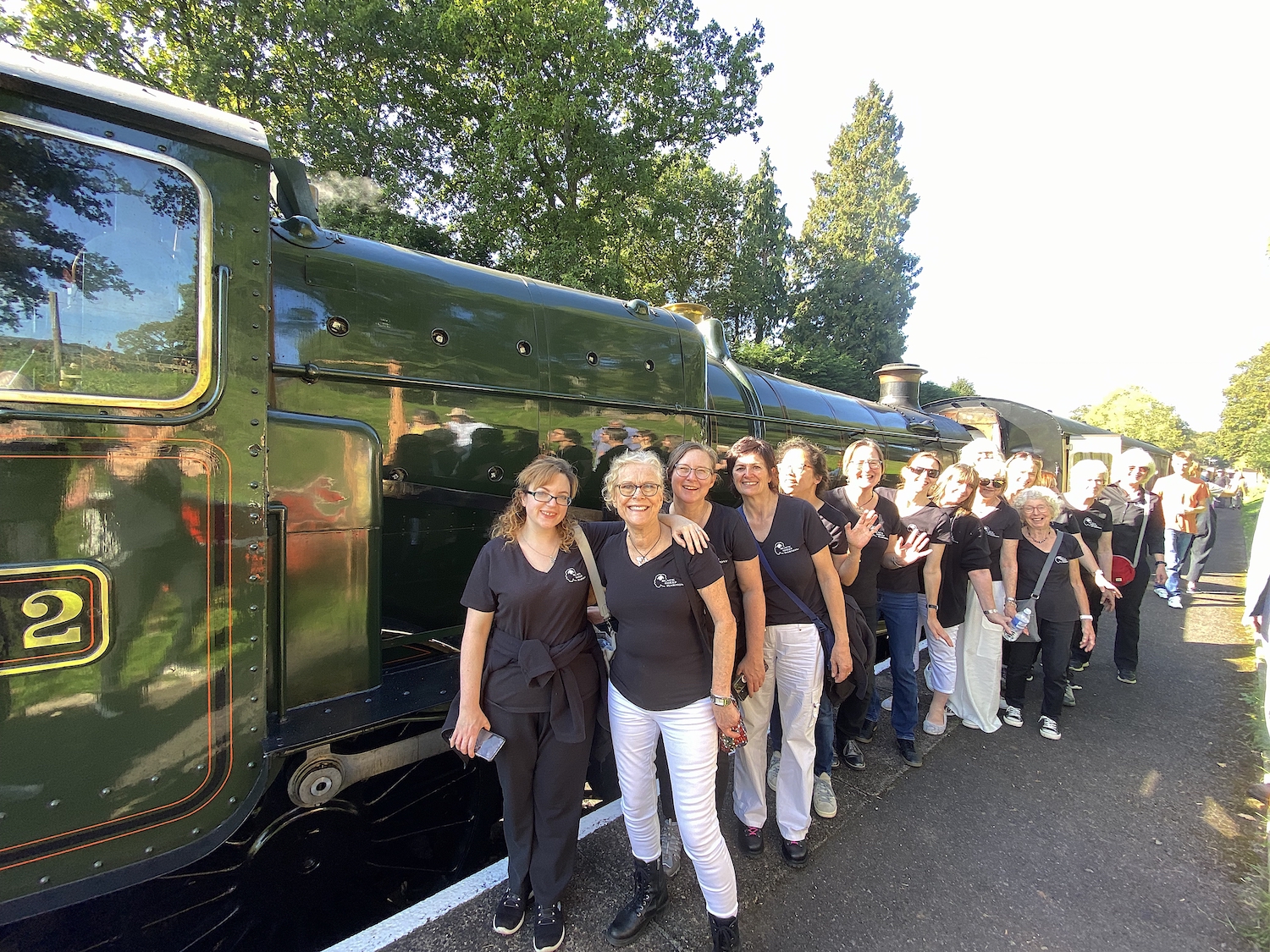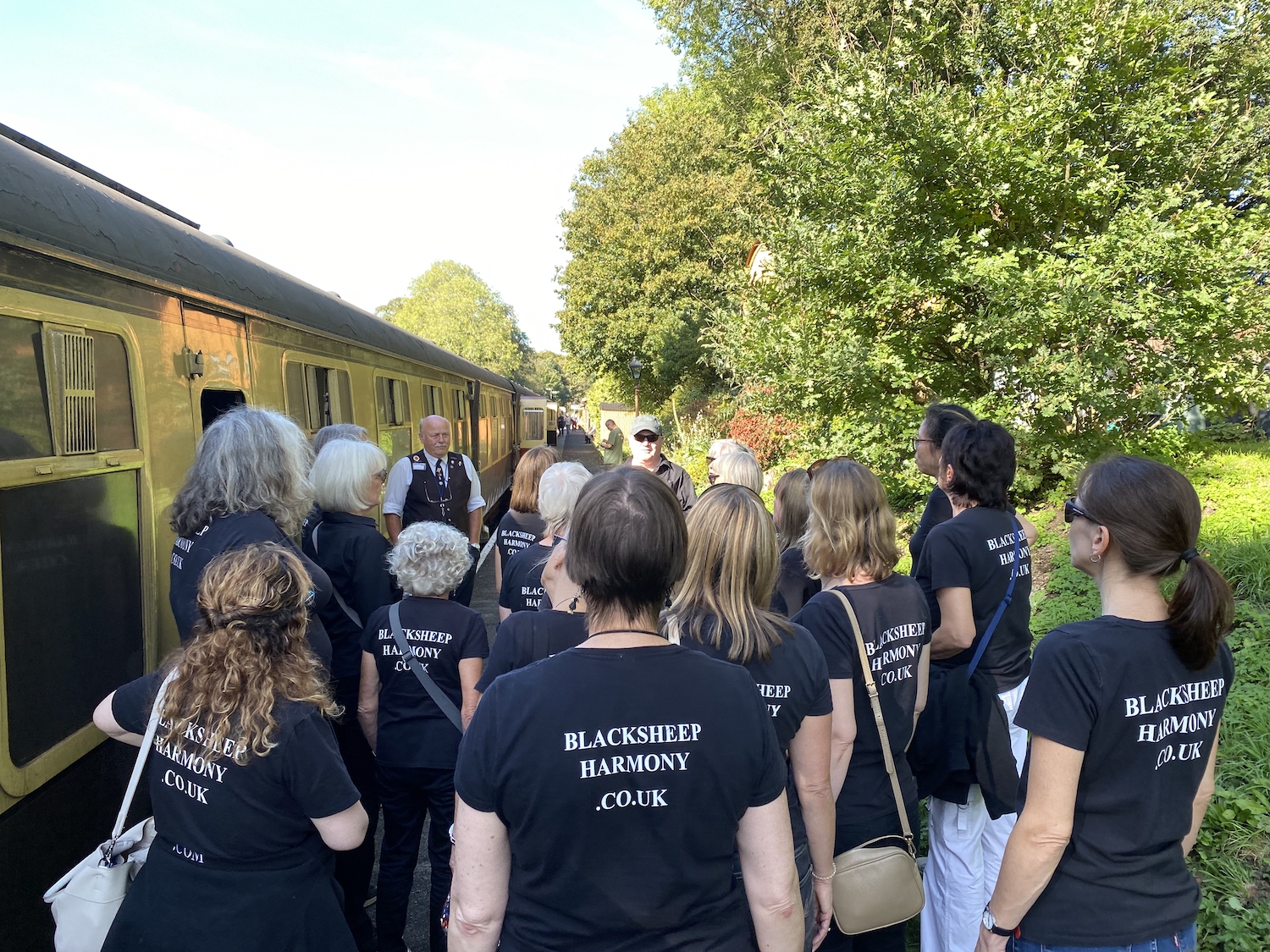 It was so nice to spend time with the flock and we missed those who couldn't make it, but I'm sure it will happen again!
The biggest thank you must go to Anne Carvallo for her incredible organisation and sheep-herding, the whole weekend went without a hitch due to her attention to detail.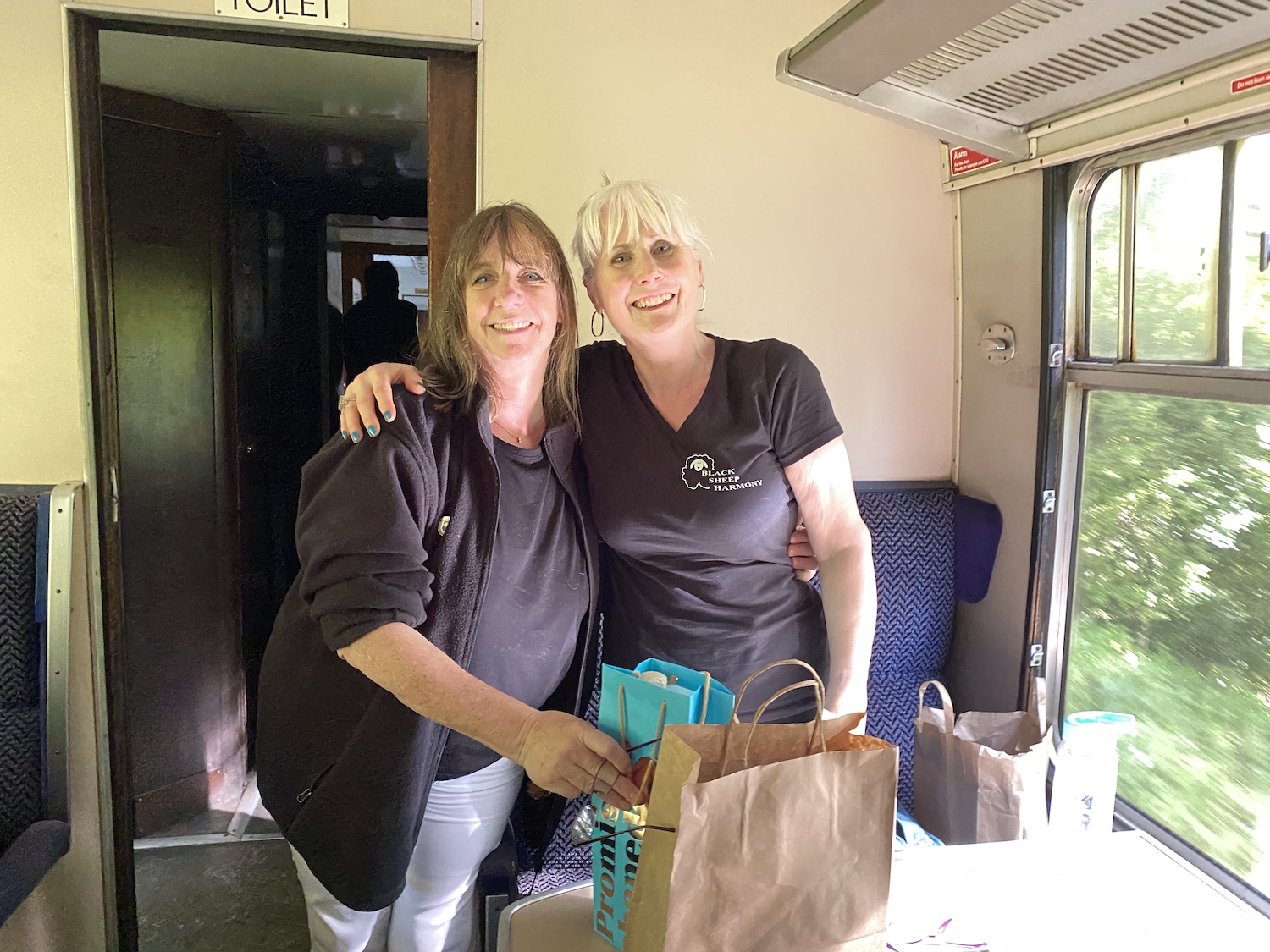 It was an excellent weekend, full of fun, friendship, sunshine and singing!
Sue Davis