Harmony Gold - what a success!

| | |
| --- | --- |
| Type of post: | Chorus news item |
| Sub-type: | No sub-type |
| Posted By: | Kathy Farrell |
| Status: | Current |
| Date Posted: | Mon, 30 Oct 2023 |
On Friday 29 September 2023, Black Sheep Harmony were proud to present their first post-covid concert Harmony Gold, with a fab-ewe-lous line-up of guests at Ashton Park School in Bristol.
Thames Valley Chorus, one of the UK's top male-voice close-harmony singing groups, were able to join us as part of their tour in the southwest. Consistently in BABS top ten barbershop choruses, they performed an exciting mix of stunning harmonies, including a beautiful rendition of Bring him home from Les Misérables and a pair of Queen hits Crazy Little Thing Called Love and Somebody to love, which were right up our street, as we have several Queen songs in our repertoire. Thames Valley Chorus BABS 2023

Also on the bill were three quartets. One Foot in the Stave, 2022's International Quartet gold medal winners and are still the only British quartet ever to win an International. With an impressive 15 gold medals between them, it was an especial treat for the Sheep to hear OFITS sing as our musical director Pete Nugent is their baritone. We're so lucky to benefit from all his experience and knowledge of the craft of close harmony singing. Their performance did not disappoint, above all their unforgettable rendition of All Shook Up! One Foot in the Stave Too Marvelous for Words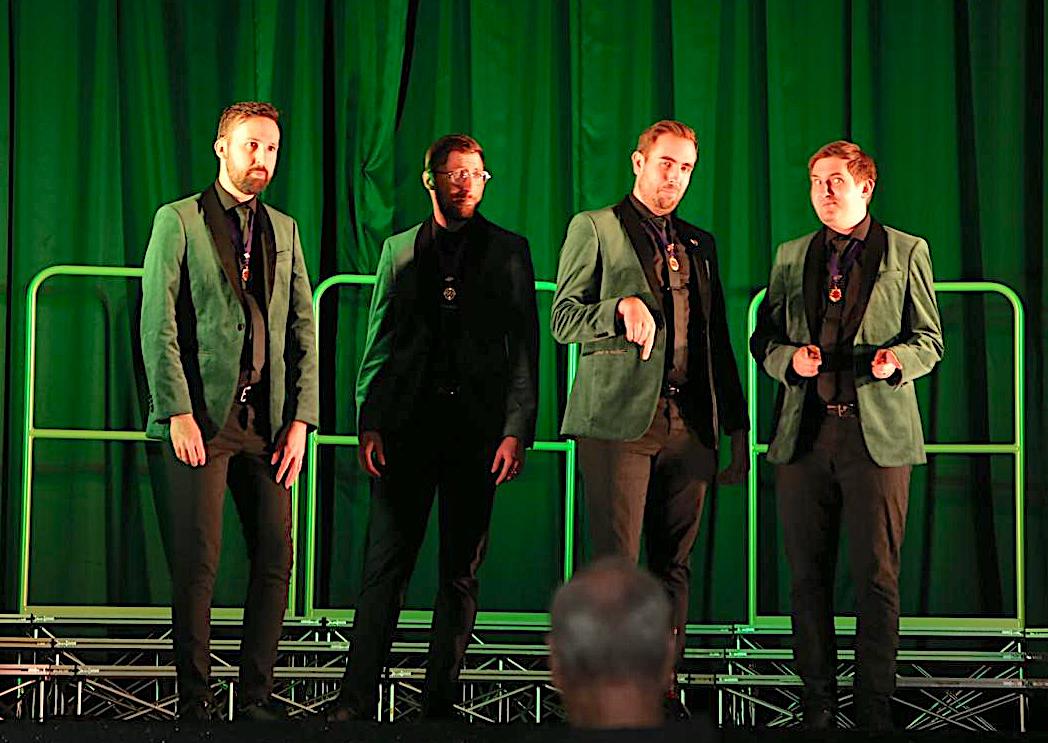 We were starstruck by our next quartet, Trailblazers. They are officially the best male barbershop quartet in the UK, winning the gold medal at the BABS National Quartet Contest this year and also represented BABS at Barbershop Harmony Society's International Convention in Louisville, Kentucky in July 2023. All have strong links with Bristol, having begun their barbershop careers in our city.
Theiir two sets showcased a wide range of songs and styles, delivered with emotion and pzazz. Particularly memorable were I found a New Baby and Bring Me Sunshine. How do they fill a hall with such a fabulous sound using just their four voices, we asked ourselves? Trailblazers BABS quartet final 2023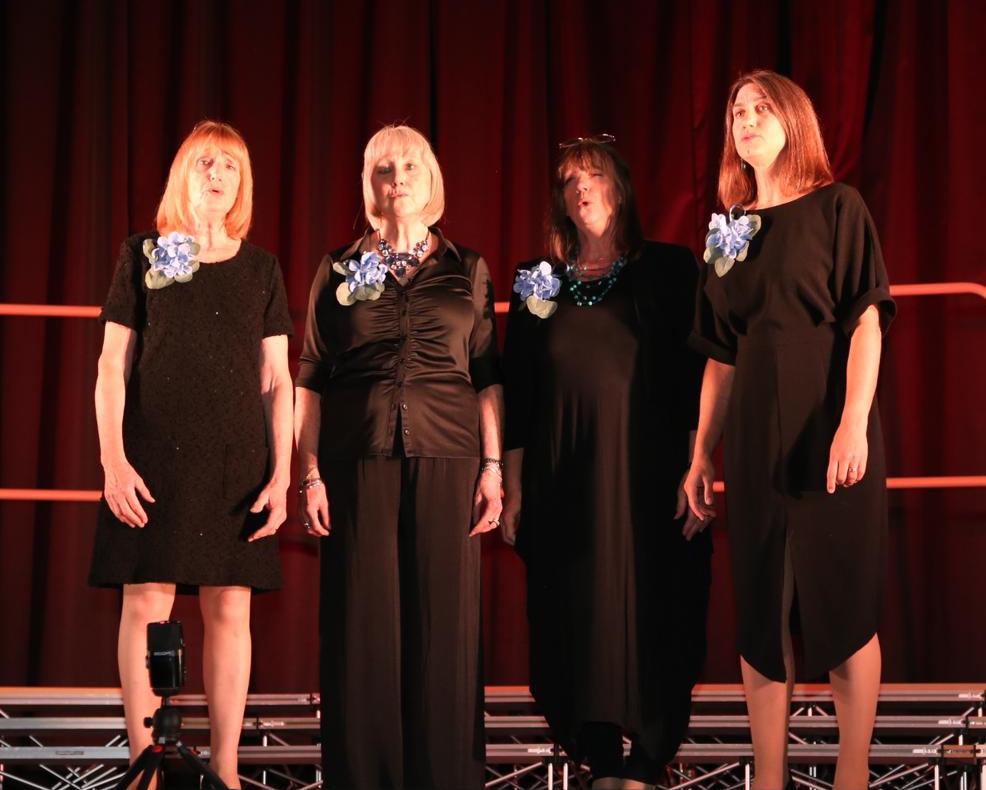 The third quartet were our own in-house SongSmiths - these special ladies were all born with, or married into, the surname of Smith. They have been singing together as a quartet for 10 years which is fairly long lived for a quartet! The SongSmiths have also competed nationally, having reached LABBS Quartet Semi-finals four times. More than that, though, they are just good friends. They treated us to When She Loved Me, an emotional ballad from Toy Story, and then Sing, Sing, Sing, which both showcased their voices and performance skills so well. The SongSmiths LABBS 2022
As for Black Sheep, we had the pleasure of singing several of our new songs: Sting's Every Breath you Take, Ed Sheeran's ballad Perfect and Queen's Love of my Life. Our second set opened with White Winter Hymnal, complete with choreographed clapping and clicking from the front row. It's quite a feat to sing at the same time! We also reprised our LABBS 2022 hit, Victoria Wood's The Ballad of Barry and Freda, but without all the props and setting fire to things this time. LABBS 2022 Black Sheep Harmony
The finale allowed us to sing all together, along with our guests, one of Thames Valley Chorus songs, Misty.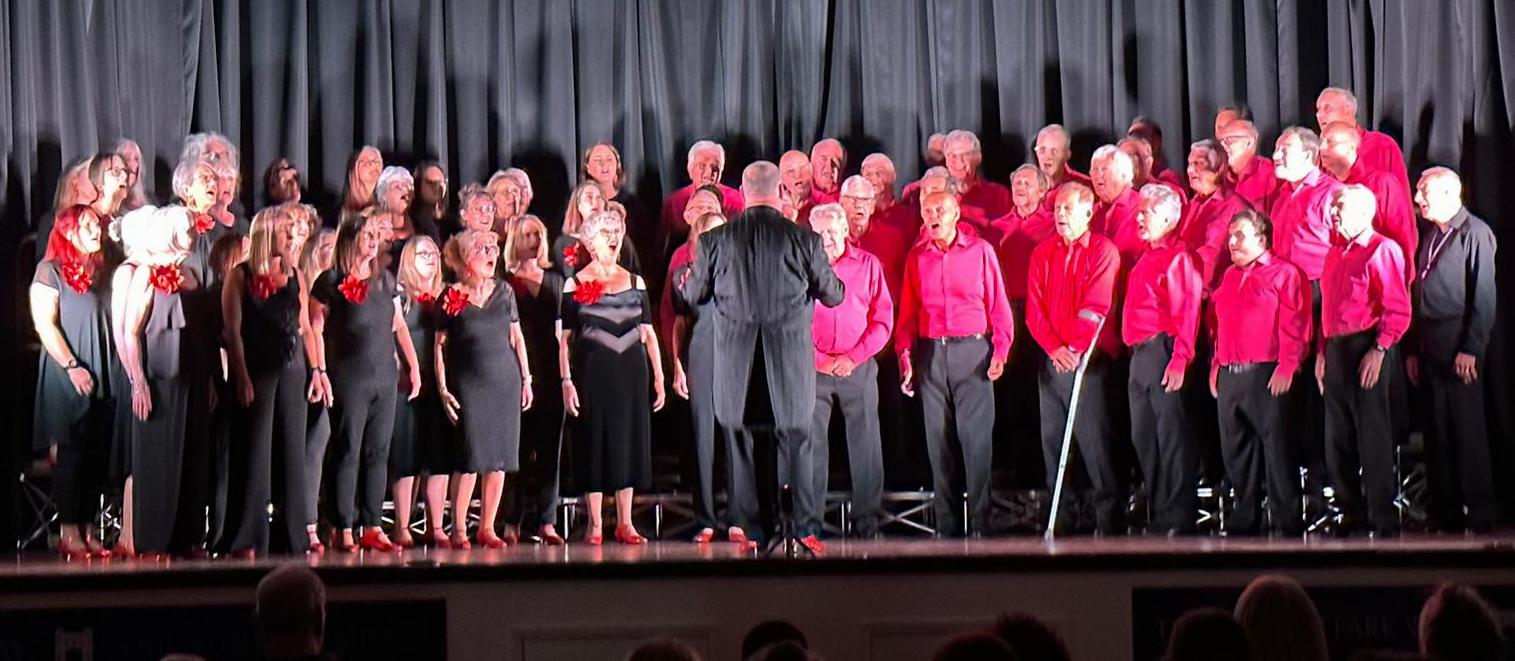 So, thanks to all our guests and to the audience who applauded and whooped, bought drinks, snacks and raffle prizes and generally had a good night out! And a massive thanks to all of our sheep who, with much planning and quite a bit of fretting, made such a success of the evening.

Please do join us for our next concert on Thursday 14 December 2023 at St Barnabas Church in Warmley for our Christmas celebration.
Debbie Ait-Kaci