Black Sheep Harmony attend LABBS Conference, Bournemouth, October 2022

| | |
| --- | --- |
| Type of post: | Chorus news item |
| Sub-type: | No sub-type |
| Posted By: | Kathy Farrell |
| Status: | Current |
| Date Posted: | Wed, 21 Dec 2022 |
In October the whole chorus de-camped to Bournemouth for an exciting weekend away. The LABBS convention, usually held every year, was back for the first time in three years, postponed previously due to Covid.

Pre-conference, we had spent a huge amount of time, not only with singing rehearsals but also drama! Our first real experience of "performing" a song with movement. Or actually two songs! We even enrolled the services of a professional acting coach in Kirsty Williams, spending a complete day with her working on the first of our two songs, "The Ballad of Barry & Freda" (aka Let's Do It!) written and performed by Victoria Wood in her heyday. In this case we performed to an arrangement by our own MD Pete "Nooj" Nugent. Some verses were removed for their implicit content but it was still rather "naughty"!

Sandra took the role of Freda with Nooj playing Barry. And they both threw themselves into the role, maybe Sandra a bit more literally than Pete 😉.

Our other song, "Sway" - the Dean Martin version, was choreographed by Kathy & Debbie, and many hours were spent perfecting the salsa moves with the front row.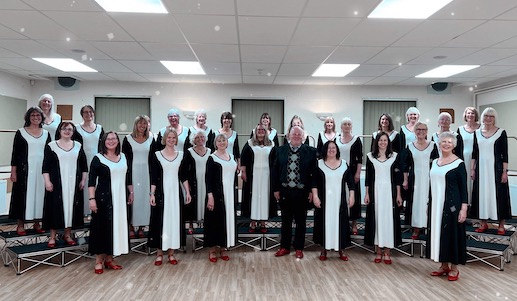 Not only were the rehearsals intense, we also made all our new dresses.

Originally a dress maker was commissioned but unfortunately she couldn't find the time to complete our dresses by the October deadline so it was all hands to the deck.

The two colour look was designed to denote Barry as boring and black and Freda as saucy in cream.

The wardrobe team and others worked tirelessly to get the look right and the dresses finished in time. Phew!

And we had a dress rehearsal for our family and friends to try out the new look.

Finally we are ready to go!

Performance day dawned and an early start for some who chose to travel down on the day, we then headed to a different venue for our practice session. We had some great fun with Pete's warm up session before heading down to the Bournemouth International Centre (BIC) for the rest of the day.

It is always interesting to watch the other choruses perform and we were fortunate to be able to see some of the top choruses, Amersham Acappella & White Rosettes amongst others. But soon it was time for our turn in the dressing room and off we went!

Into our new dresses, with our red shoes and earrings, make-up on, hair arranged, and we're ready!




Onto the stage to the usual whoops, and no sooner than our first number started, we heard laughter from the audience, and this continued all through "Barry & Freda" with a massive ovation at the end of both this song and our set. Sandra and Pete were fantastic, backed up by all the chorus moves behind. We went down a storm!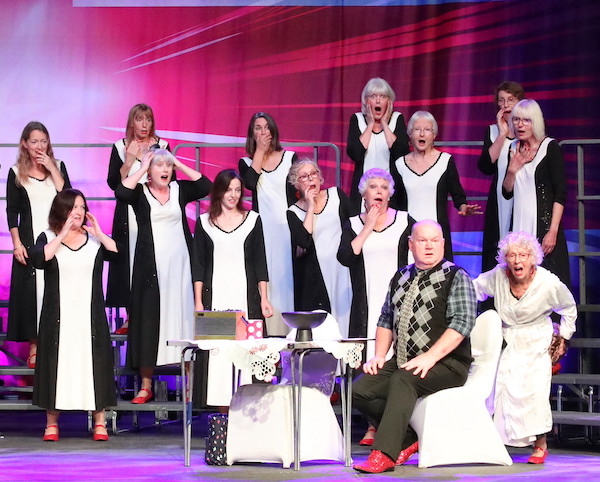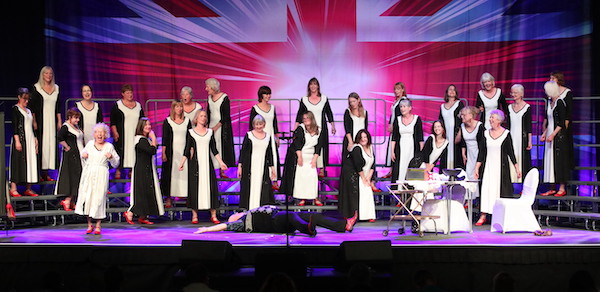 To view the full range of photos from our performance, head to our Photos page under "News & Events"

And check out the performance video below or on Youtube HERE





Ok, maybe the singing could have been a bit better - as novices at "performance" we need to get to grips with both this aspect and the singing at the same time! But the concensus throughout the audience was that we were the most entertaining performance of the day. And that's not to be sneezed at.. Shame there wasn't an entertainment award - apparently being discussed for future years, typical!

Although we weren't being judged along with all the other choruses, we did still have feedback and scores from the judges on the varying aspects of our performance. And our score was higher than Pete had hoped, despite a deduction for Barry & Freda due to various barbershop requirements for songs, which apparently we broke.

The rest of the day we partied! First in the bar (well, maybe some people were there for a long time!). And then eventually after watching some of the various other activities in BIC and partaking in the Polecat singing, many of us migrated back to the hotel where some more singing took place. And fluid refreshment. Of course!

Everyone was rather bleary eyed in the morning, but we enjoyed the quartet competition plus a set from the gold medal winning Bristol Mix (mixed voices chorus) who included some of our own Sheep, and then headed for home. Well, most people anyway: Noey got roped into a mixed quartet at the last minute as one member was ill. And they did extremely well with half an hour's practice!

Back home and time to reflect on our performance. We won't be going to LABBS in 2023 but watch out for us again. We promise you some fun!
Kathy Farrell