Black Sheep Show and Tell.

Because of the ongoing restrictions to singing due to COVID, our rehearsals are still all virtual. While online rehearsals are not in any way a substitute for singing together, they continue to keep us connected and Black Sheep Harmony members are still making the most of these challenging times.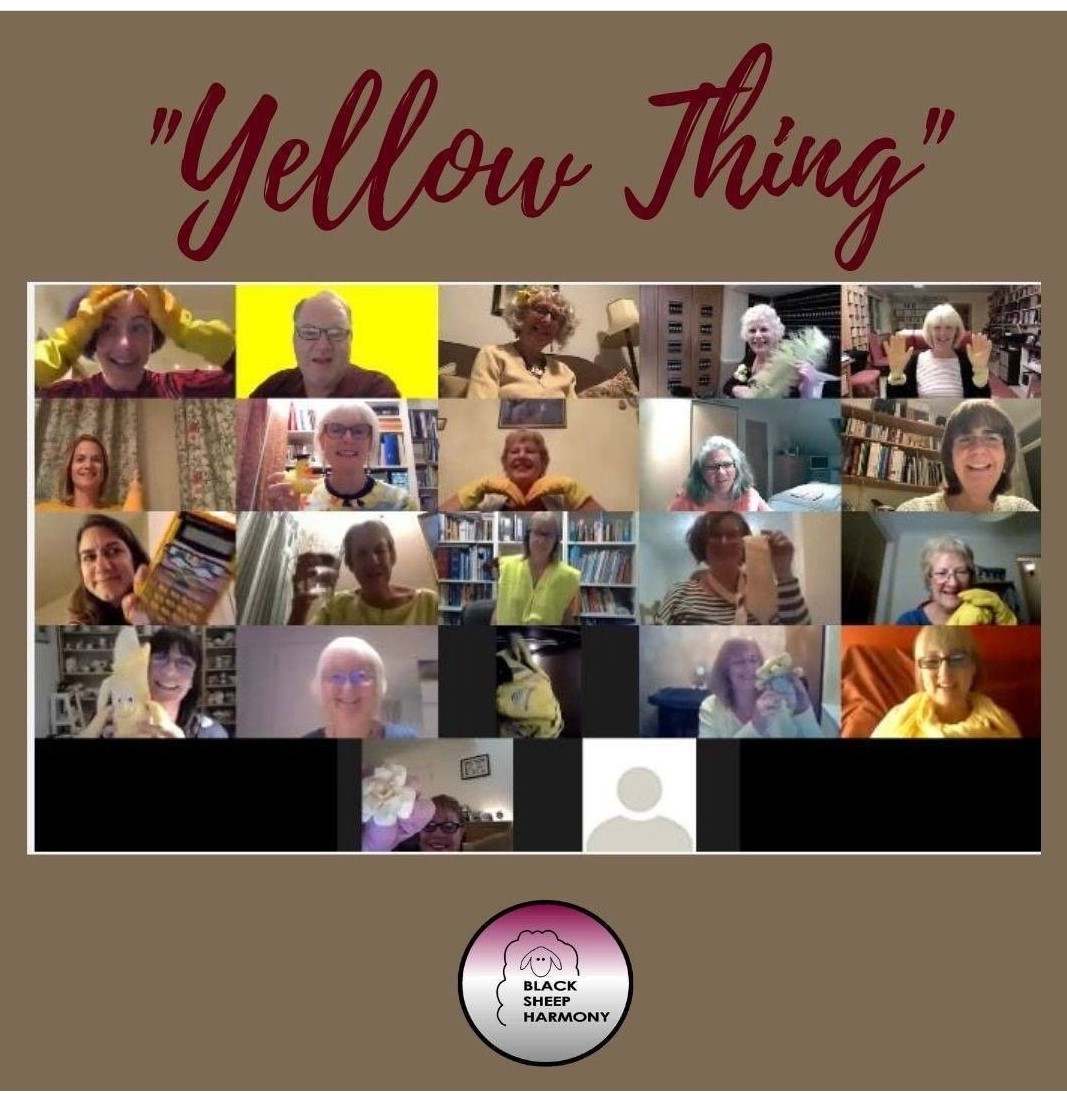 We think that it is important to concentrate on the social aspect of our weekly meetings so although we do have a schedule of songs to practice, we are constantly coming up with new activities to keep things fun and fresh! One of the things that we enjoy is a weekly "Show and Tell" section during our Zoom rehearsals, with a different theme every week and there have been a wide variety to date. There is no obligation to take part, but many do and those that don't, enjoy the varied and interesting stories that accompany the items.

These have included -

"Hair Through Time" where we were treated to many gorgeous of photos of members' youthful hairstyles (who knew that the bubble perm would go out of fashion) which showed the diversity of looks that people have had; Here are a few photos of Sue's varied hairstyles through the years.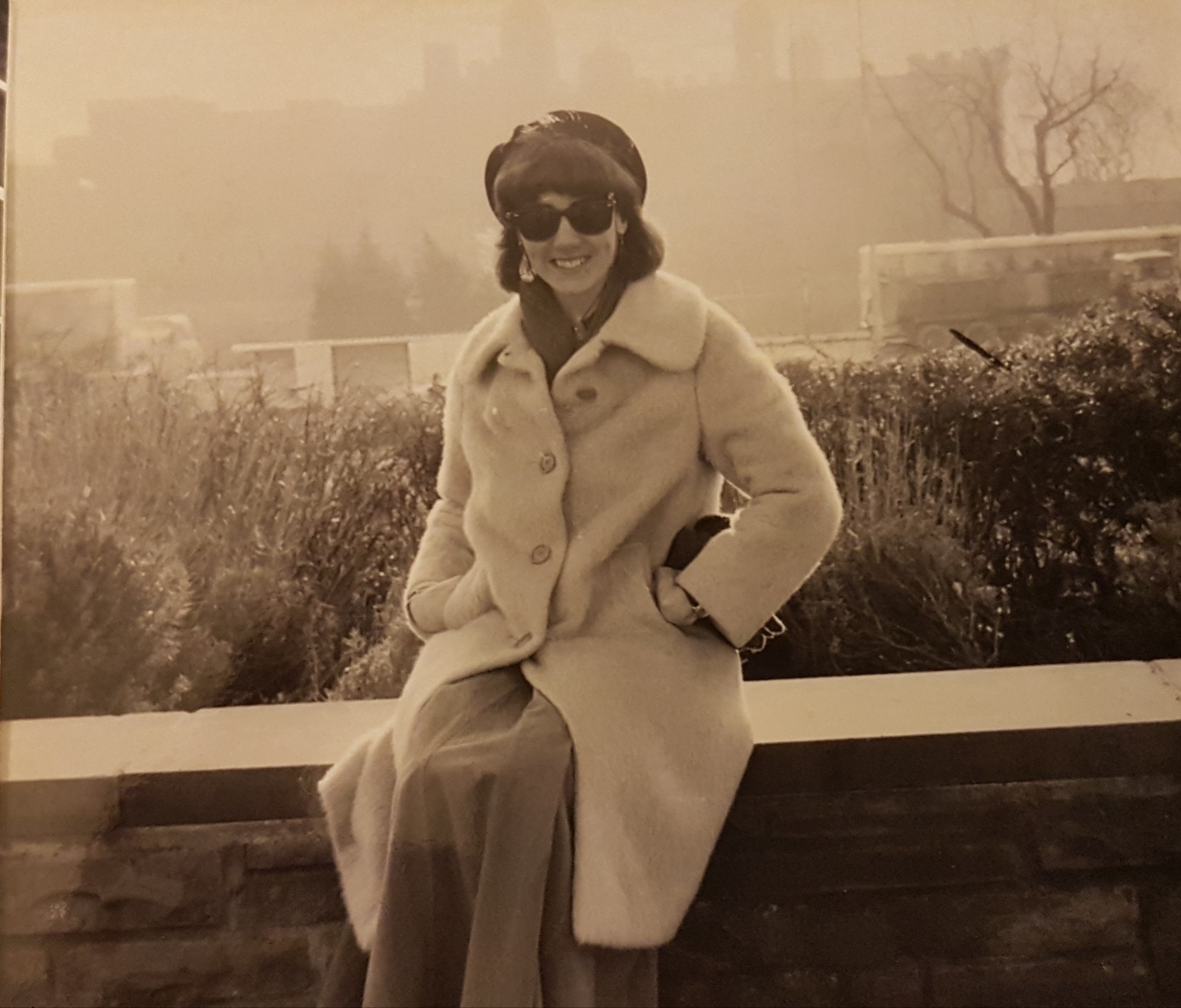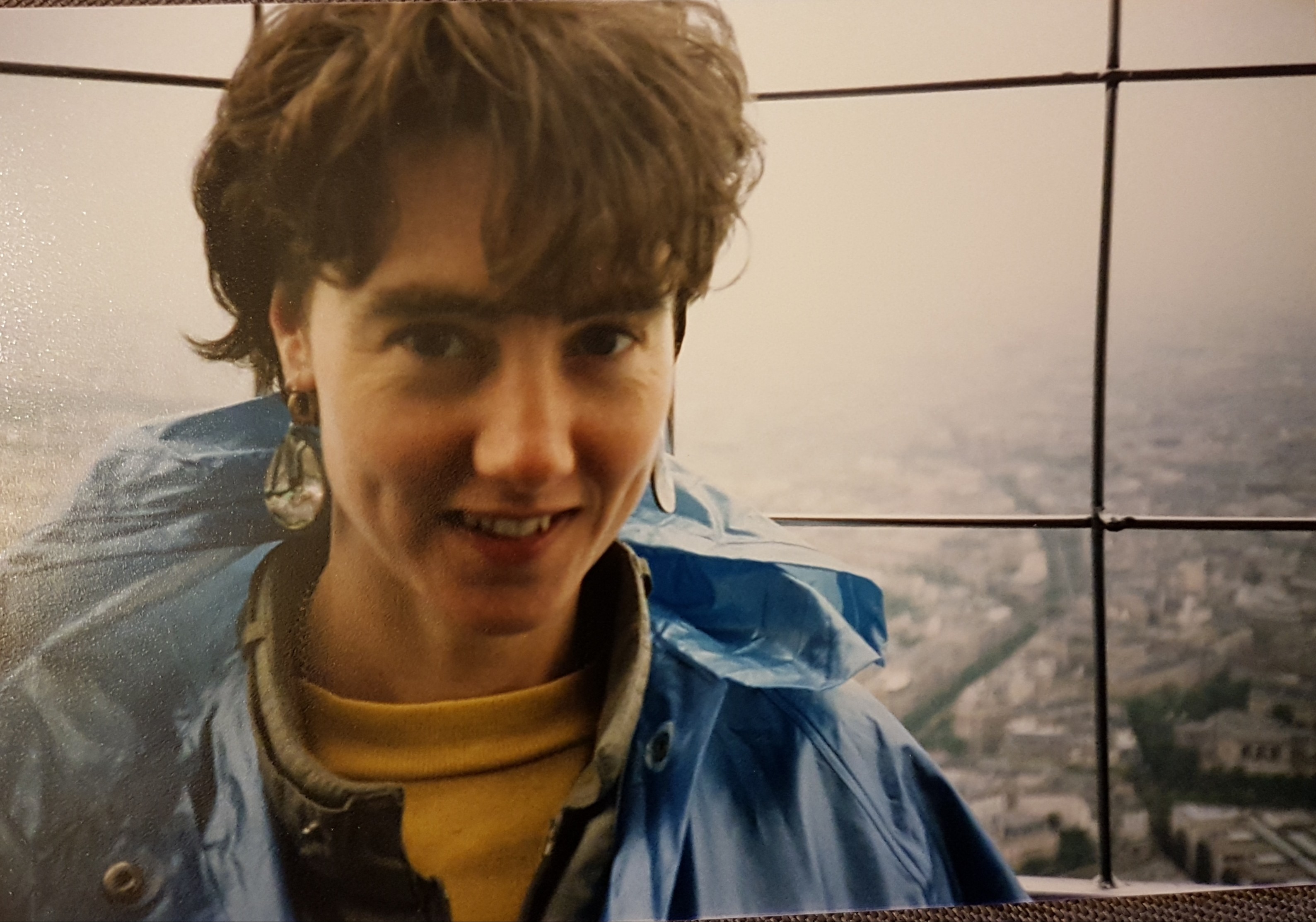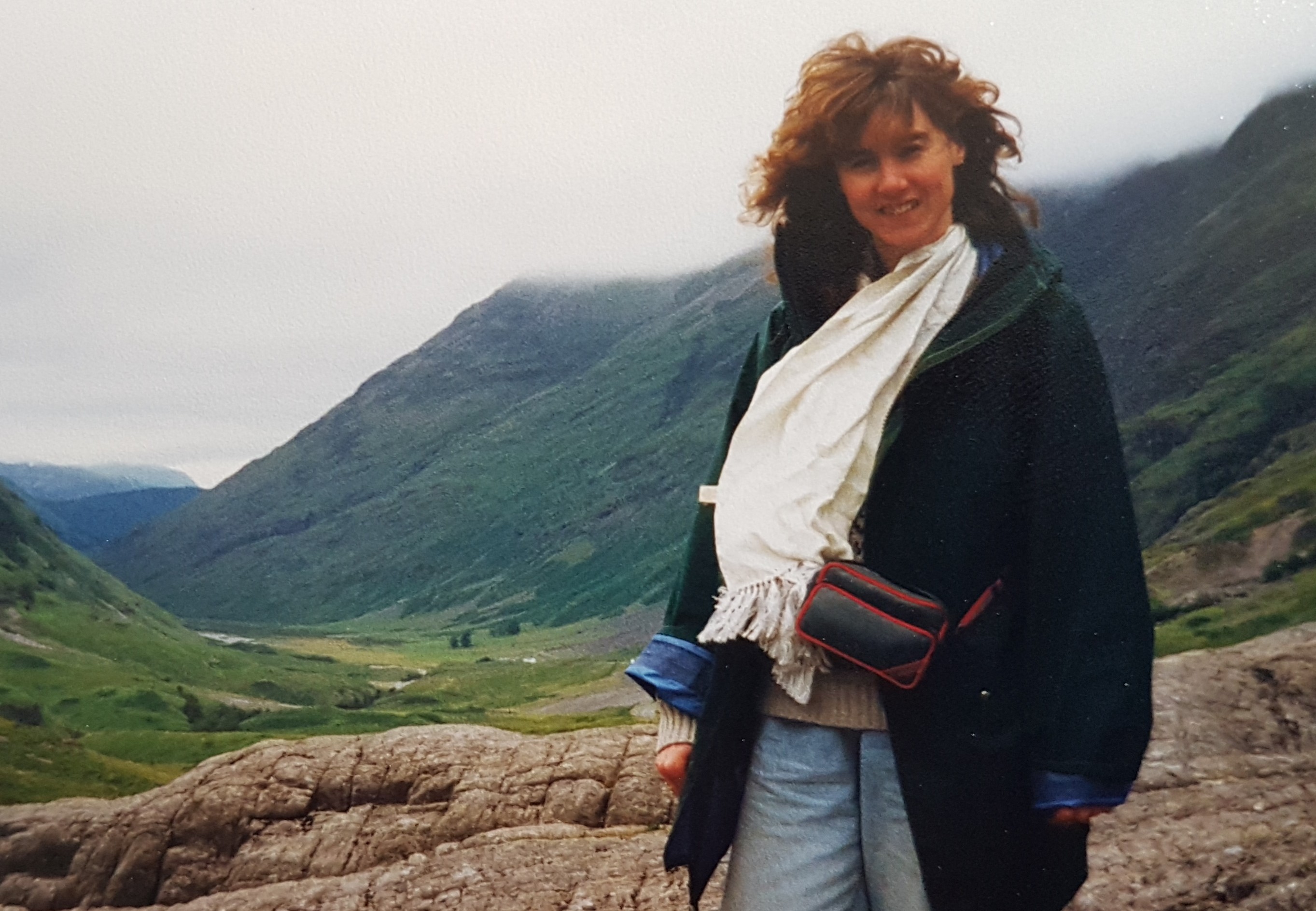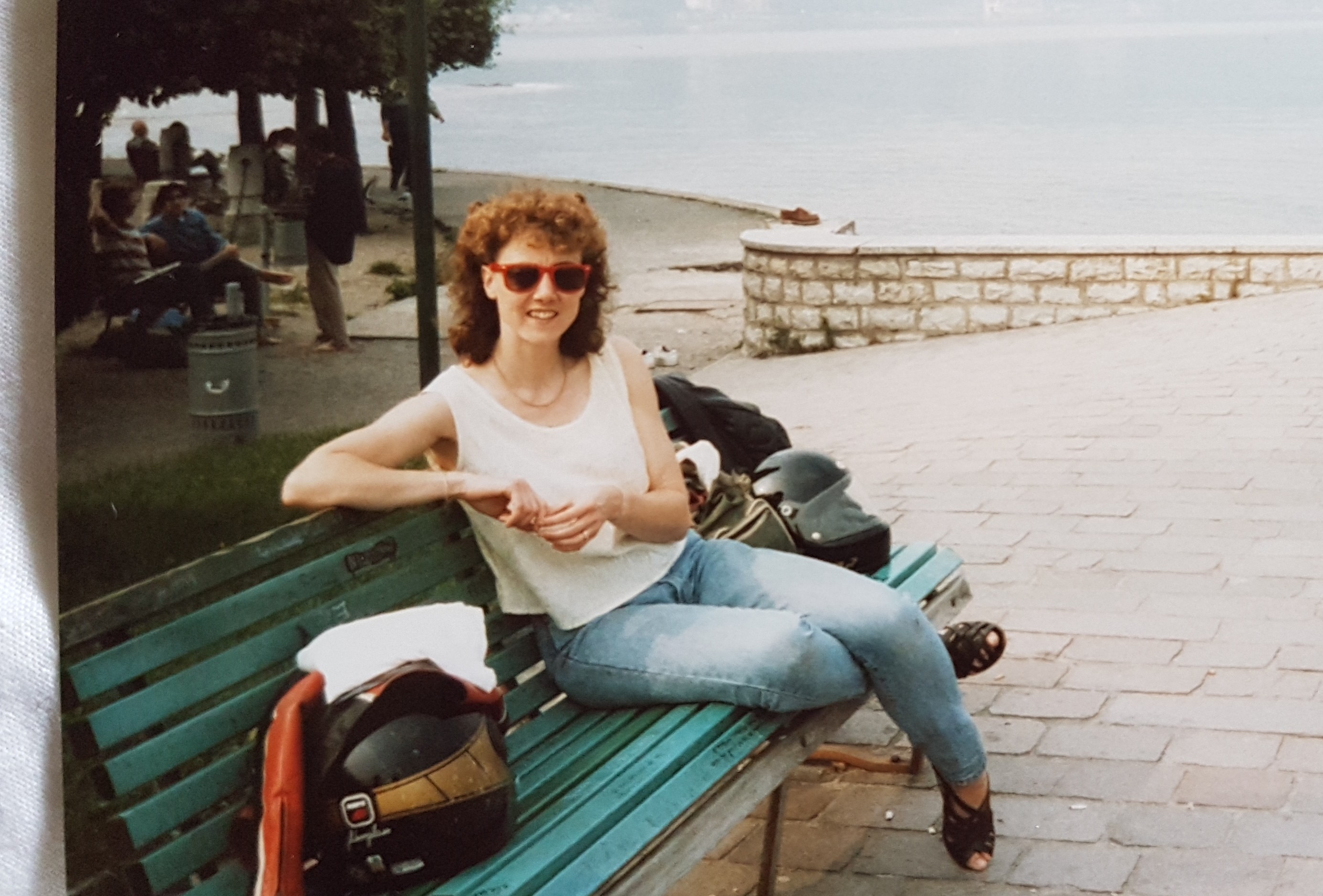 "Souvenirs" where many of us shared items which brought back memories of events or holidays, including a very special piece of Beatles memorabilia (a signed cardboard insert from a pack of Y fronts!).

"Guess the Owner" a quiz where we had a slideshow of cats in hats and dogs in wigs, pets past and present, amusing and cute, but all well loved, who we attempted to match with their owners.
These included -
Cat's cat Merlin - Cat says "In my office we used to have a 'secret Santa' at Christmas. One year I opened my present and was confused by two tiny Santa hats – I realised my giver knew I had two cats, and the hats were meant for them! So I tried it out with Merlin, who is not the most congenial or cooperative of cats - he was not impressed – he coughed and choked as if convinced I was trying to strangle him. He turned and glared at me, but wore it long enough for me to take this photo".


Drea's dog looks very soulful in a little wig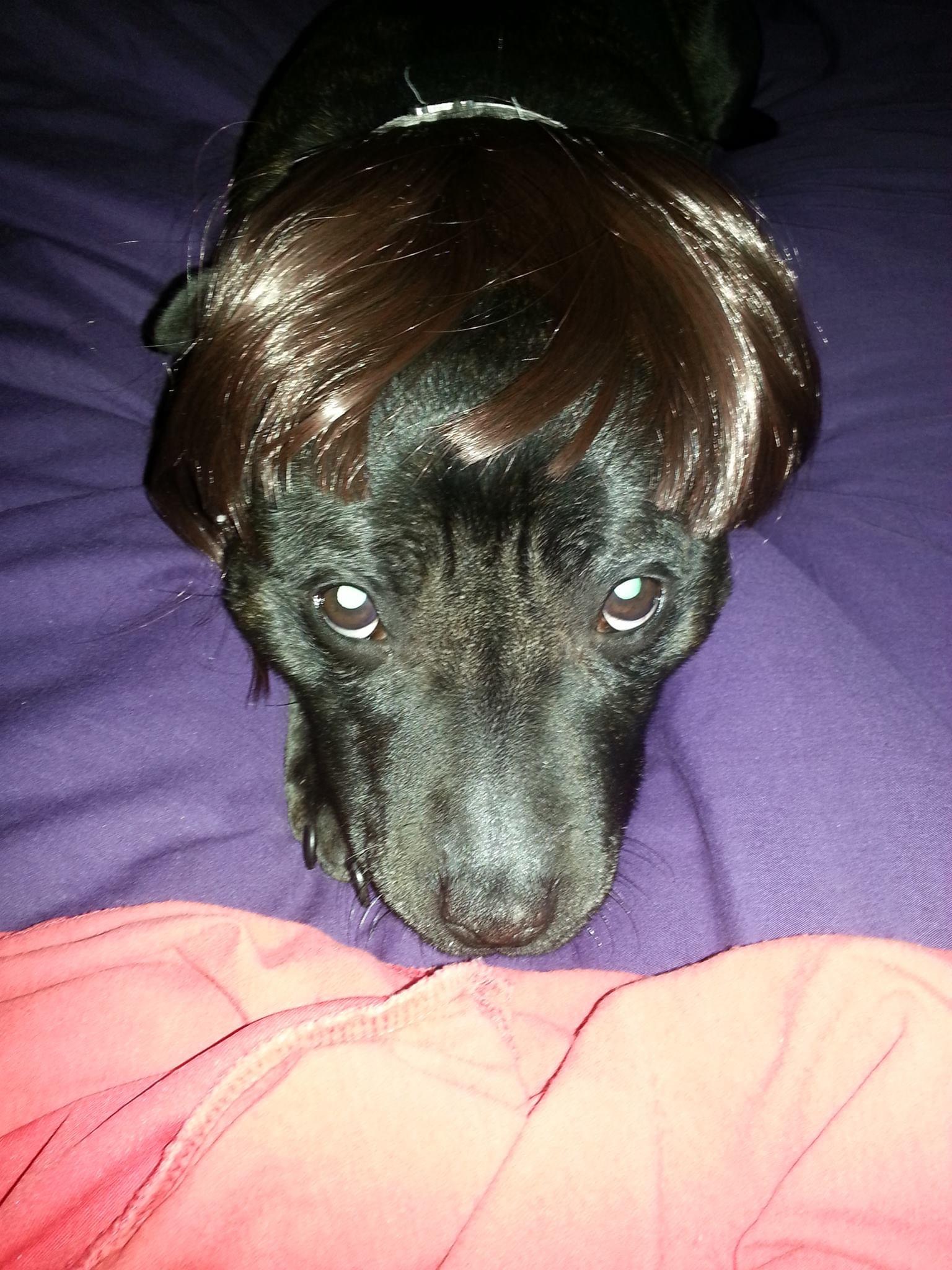 Ros's beautiful and much loved papillon, Ziggy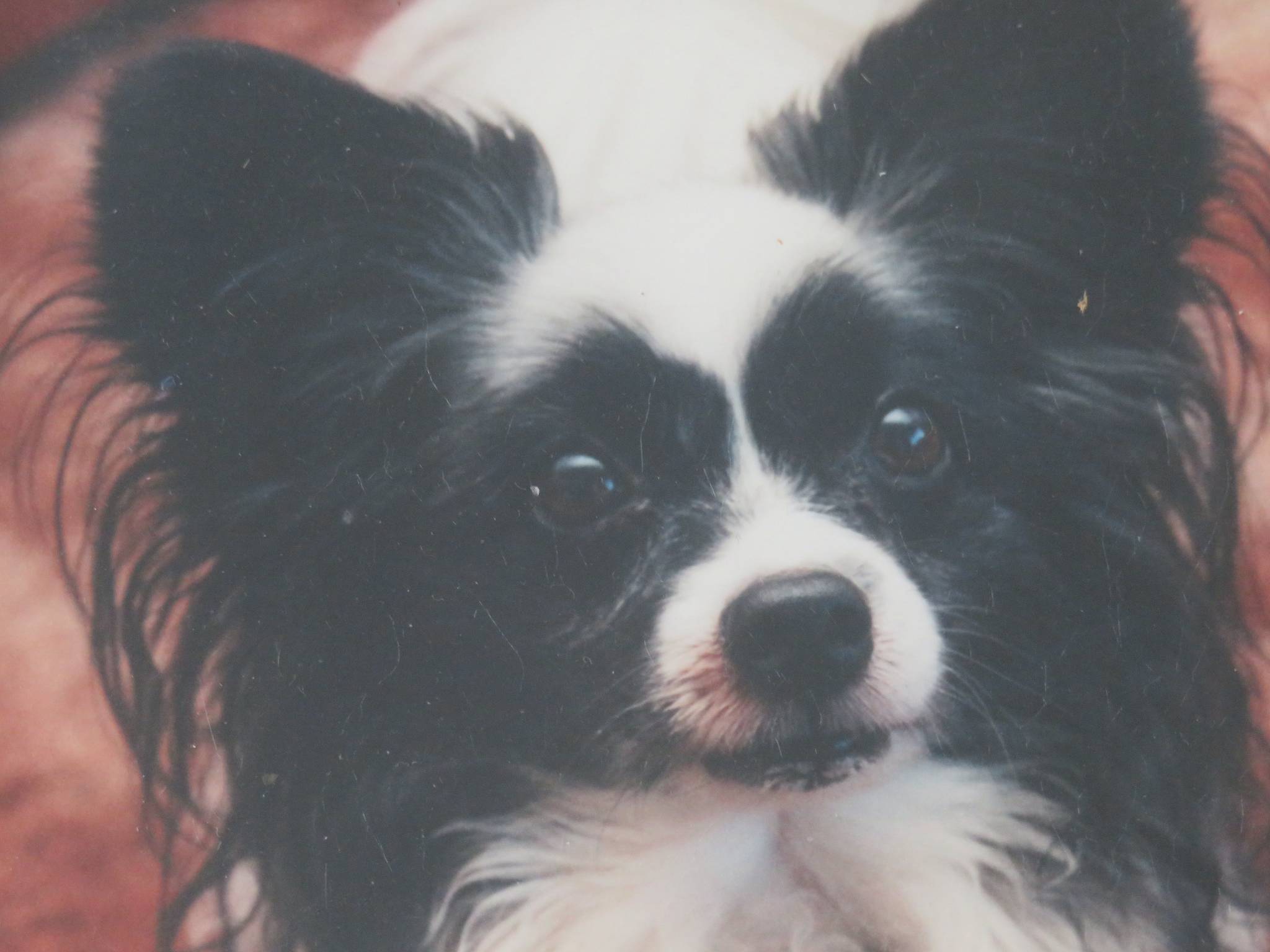 "Transport" brought us a variety of much loved conveyances (including a white 2CV which was used in a wedding fleet and a Hillman Avenger with a papier-mâché dashboard) most of which ended up on the scrap heap.

"Yellow Things" brought us a singing banana in a fruity quartet - David, dressed as a banana in his quartet "Chord in the Act" when they performed to unsuspecting passers by during the launch of CBBC.

Kathy showed us a beautifully beaded flapper dress from the 1920s. She says "My great aunt Betty's beaded Charleston dress from the 1920's. She was a professional ballet dancer and theatrical performer throughout her life and well into her 70's when she could still high kick! Her dress from that fascinating period has been passed down from her, through my mum and then to me. The intricate design of beads in amber and peach is stunning.
Unfortunately over the years of performances it has lost many of its beads which is a shame and it would be lovely to get it restored to its former glory!"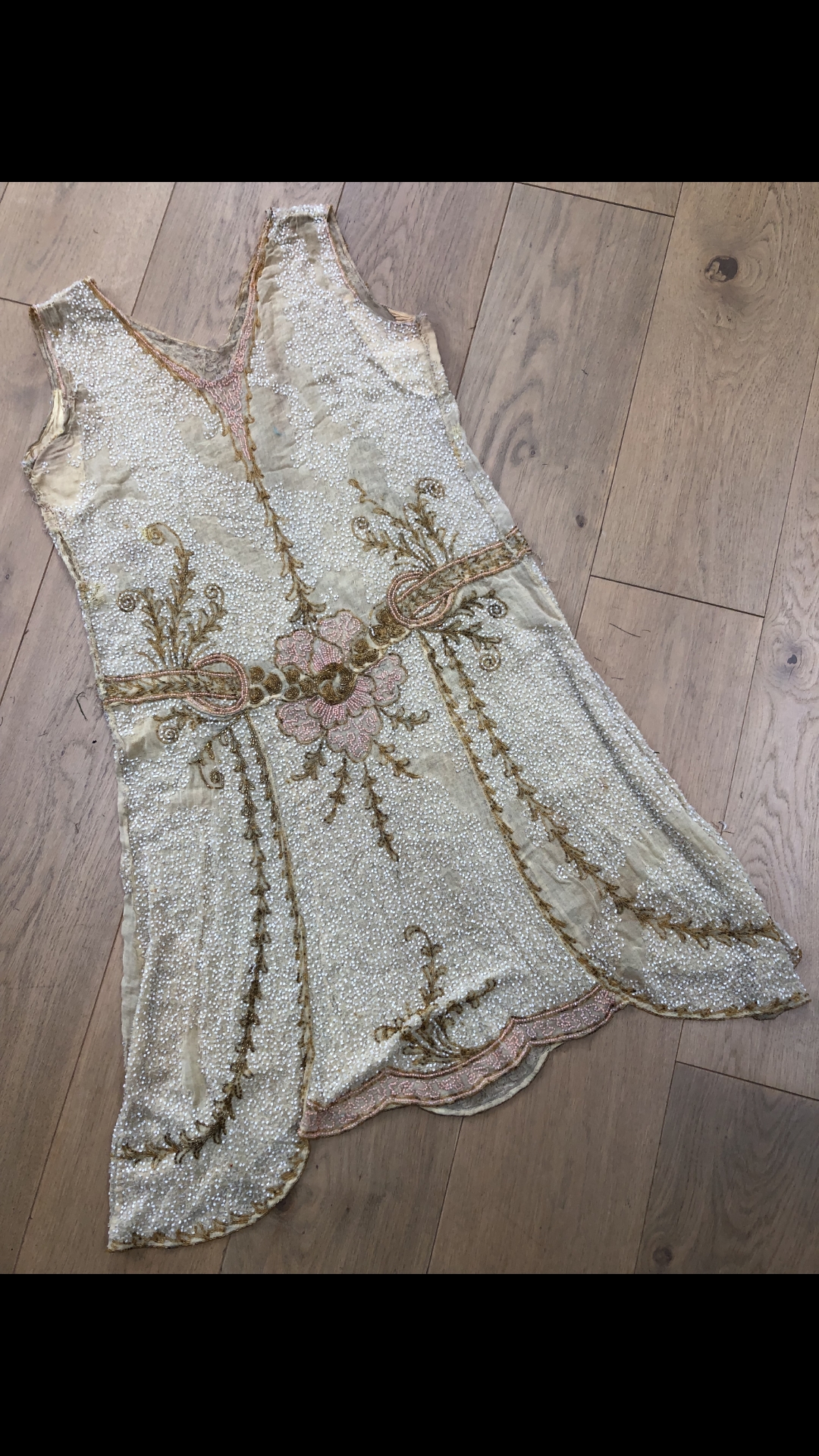 Debbie showed us a family portrait of her Mum in the 1940s, holding a chicken while wearing a yellow smocked dress, a hand me-down from her cousin. The painting shows the Chilterns where her grandfather was landlord of a country pub following relocation from London. Debbie remembers it hanging above the fireplace in the family home and it remains with her Mum to this day.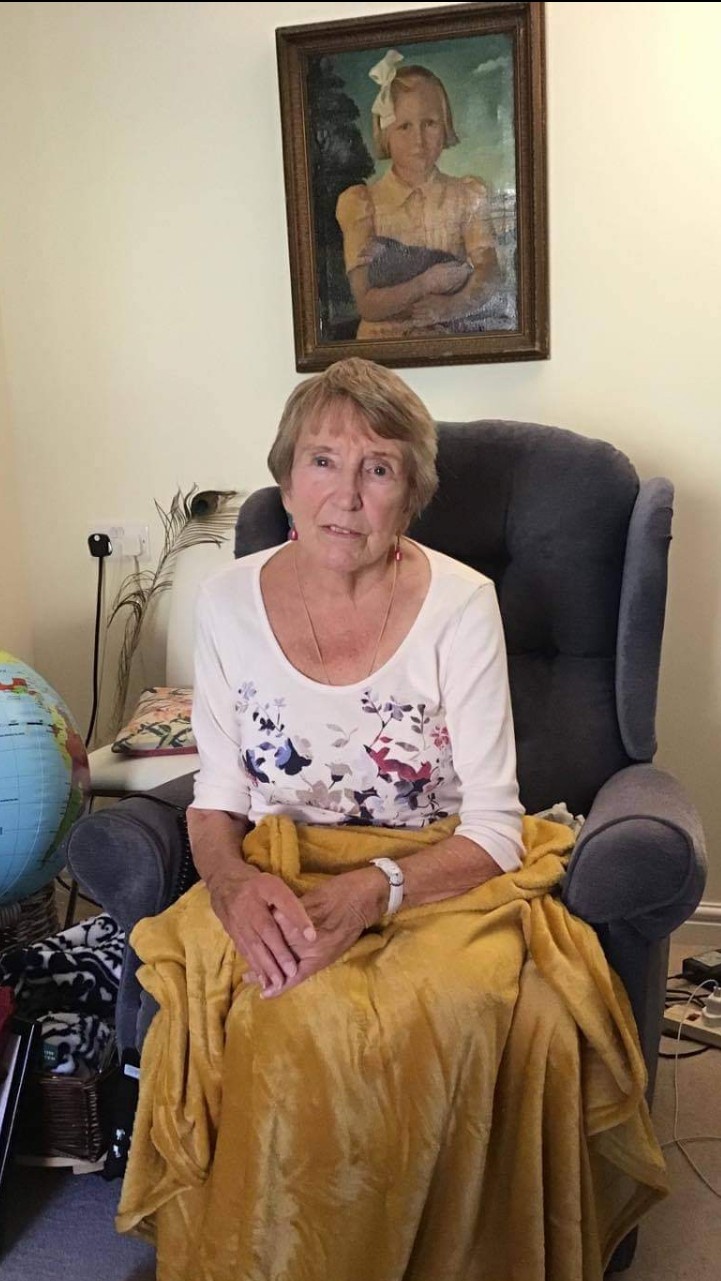 There were also a couple of upholstery projects, an adorable handmade felt duck toy from the 1940s and a stunning yellow orchid which flowered after many barren years.

Last but definitely not least was Kate's "Yellow Submoorine", a snorkelling cow! A competition winning design for a fibreglass cow in the colours of the Swedish flag which was exhibited in the public spaces of Stockholm.

"Fantastic Finds"
Sophie showed us a lamp which she found at a flea market, only to be delighted when it turned out to be by a famous designer - "It's the only thing I have bought at a second hand market that I was pleasantly surprised by. Turns out it is an Ingo Maurer design, I didn't know it at the time!"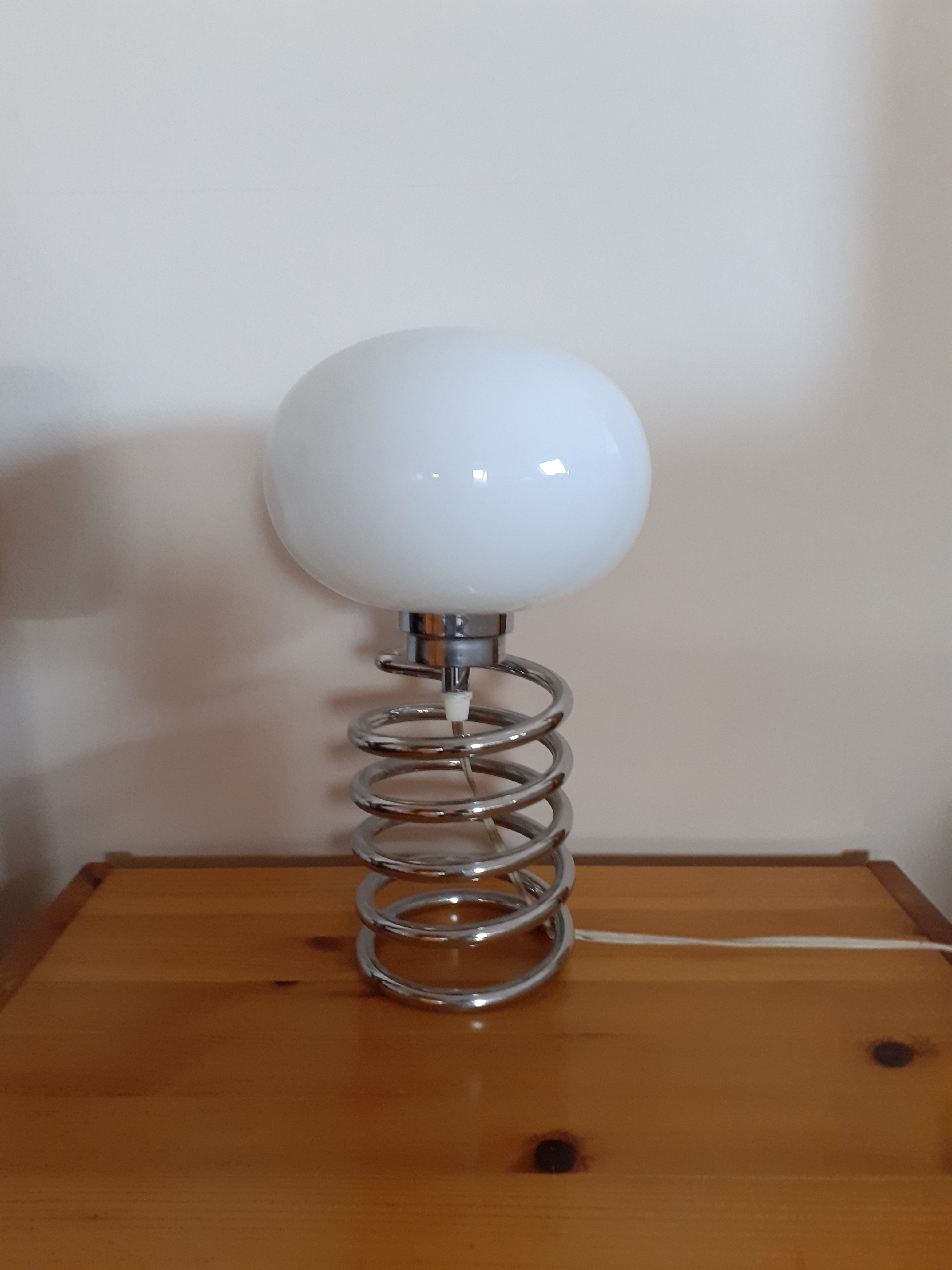 Kay amazed us with a stunning gold and uncut sapphire ring (AD 1219-1538) which she unearthed during an archeological dig in Stoke on Trent. It was found on the finger of a skeleton underneath Hulton Abbey and which went to the British Museum as it is treasure trove. It was subsequently purchased by the local Hanley Museum where it was put on display.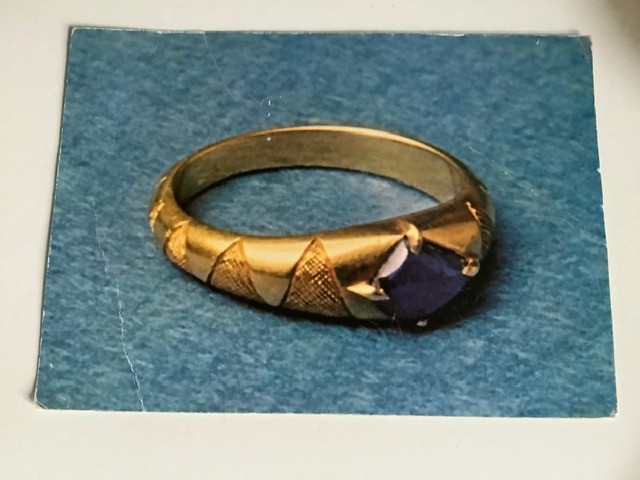 "Lockdown Projects"
Ruth told us how she had trained and completed her 4th NHS Couch to 5K during lockdown despite battling with ulcerative colitis (well done Ruth).

Black Sheep Harmony are also lucky because another of Ruth's Lockdown projects was to revamp our Instagram account for which we are truly grateful as it looks amazing!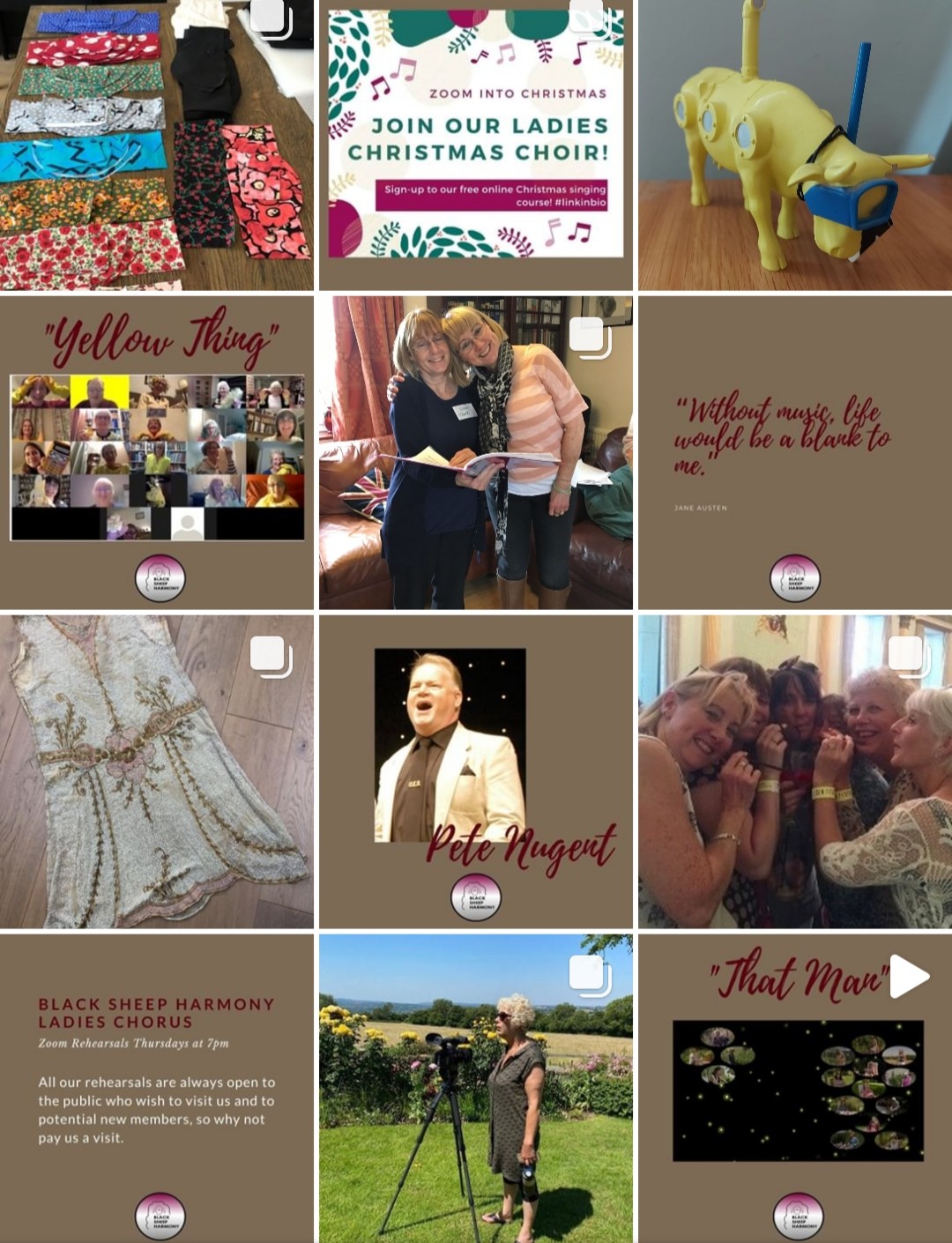 Nicky showed us before and after photos of her garden improvements - it is now a fairy grotto with lights, rock gardens and even a little pond for frogs! The perfect place to relax during lockdown - as long as the fairies don't mind...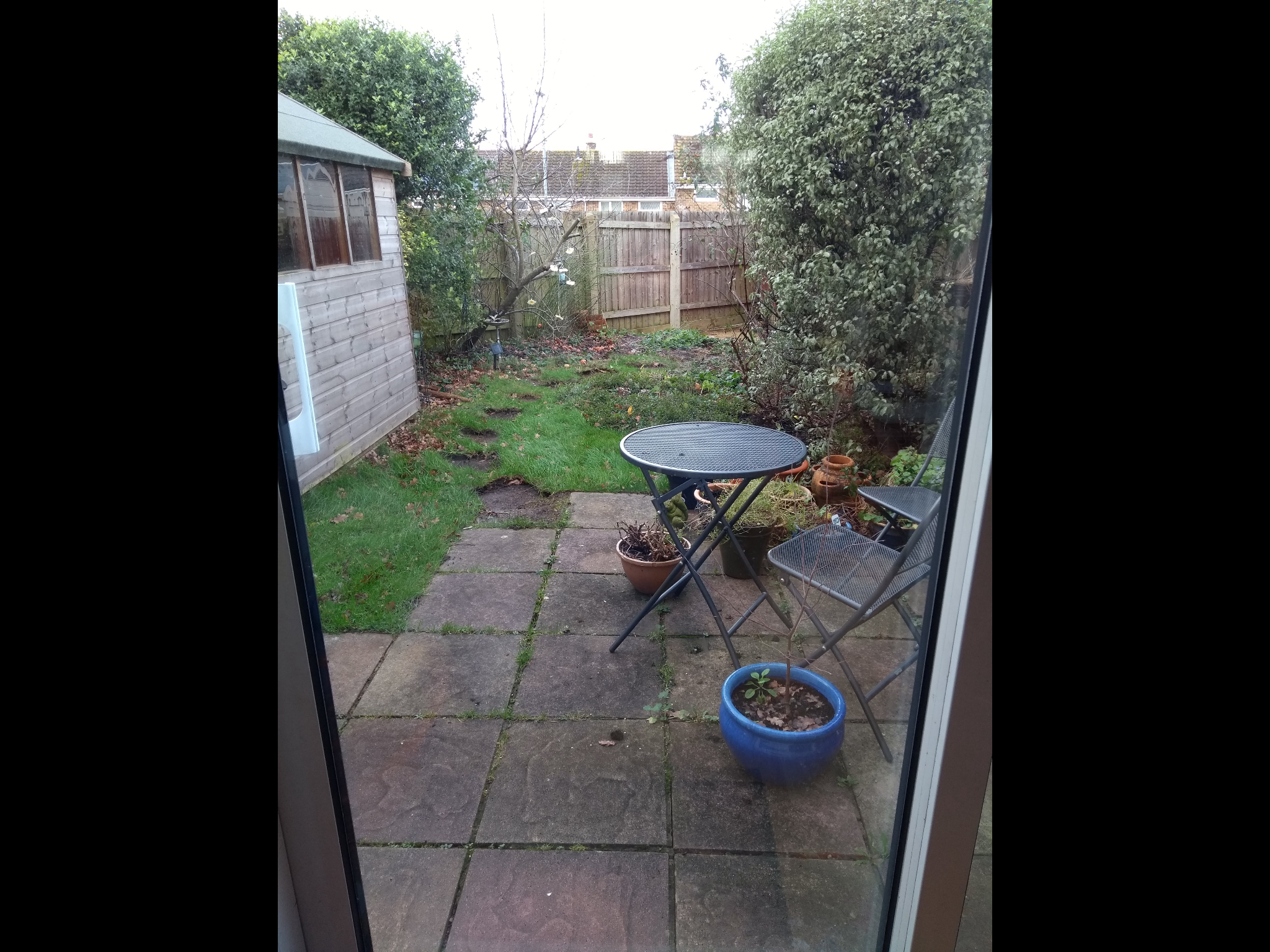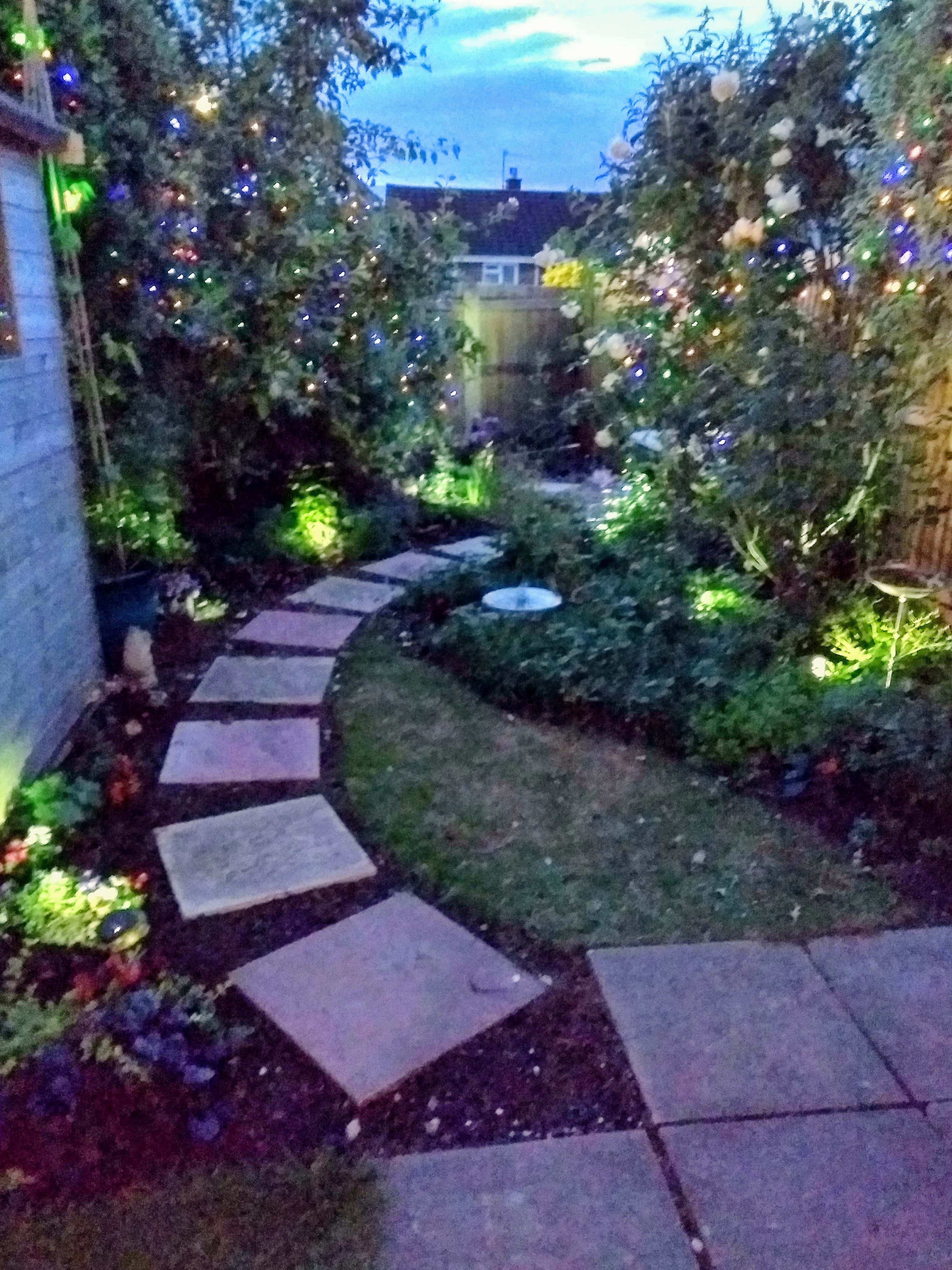 Julie's upholstery project also came into the "yellow" category. She told us "It's an American Rocking chair which I bought for £30. I stripped it back, sanded and varnished then re-upholstered. It was the first time I have used weaving. I was procrastinating for a while, then was motivated to finish during lockdown".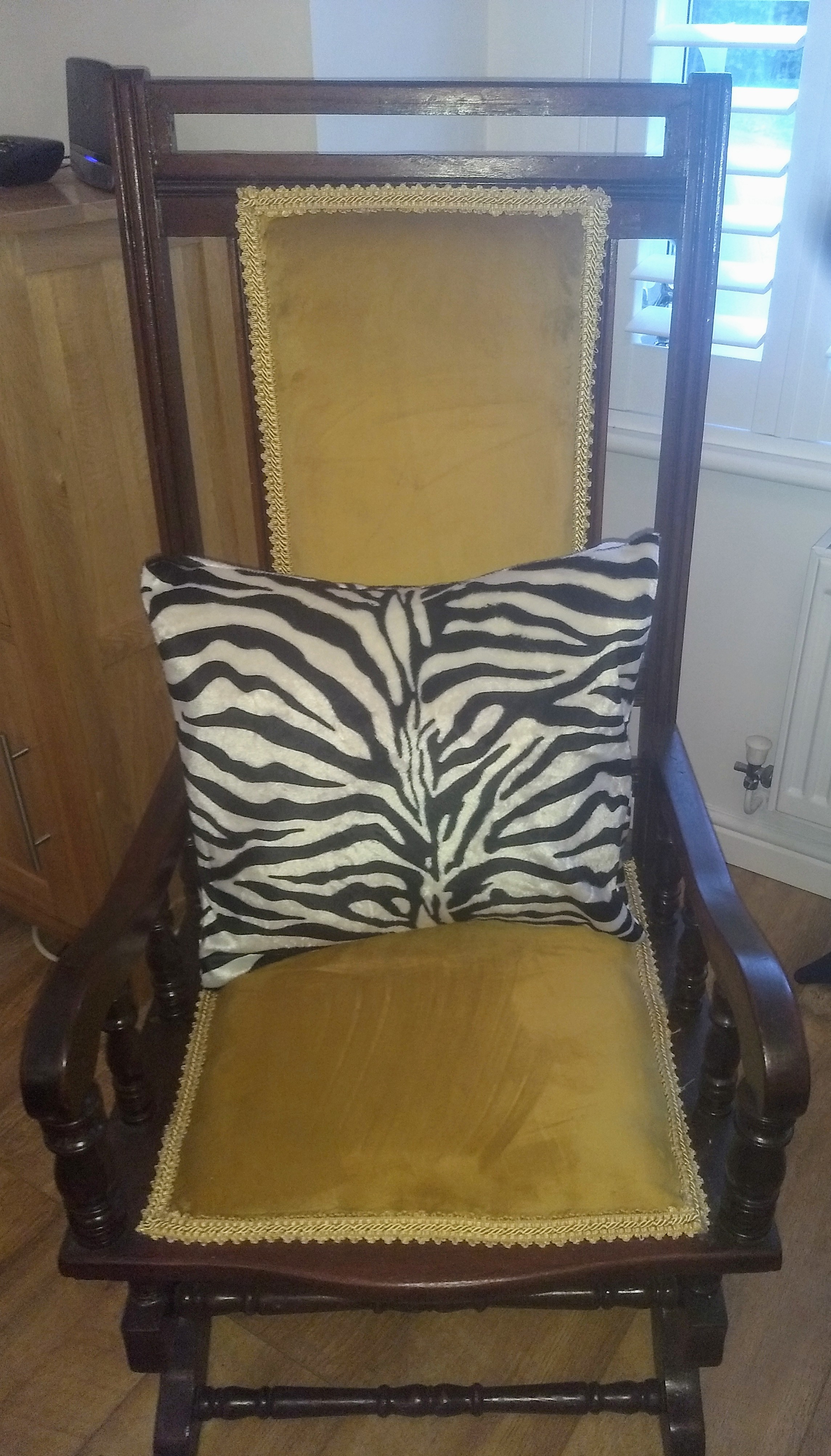 Sue decided to take up patchwork again after a break of 30 years, but in miniature! "In my 20s I started making a patchwork quilt cover, it was huge but I never finished it and it languishes in a cupboard somewhere. I thought I'd have another go at patchwork as it's the perfect thing to do when you can't go out, but to make it different, I'd keep it small and topical. I made a piece of fabric out of inch wide hexagons cut from a variety of scraps and then used it to make a mask - I was very pleased with it and no-one else has one the same!".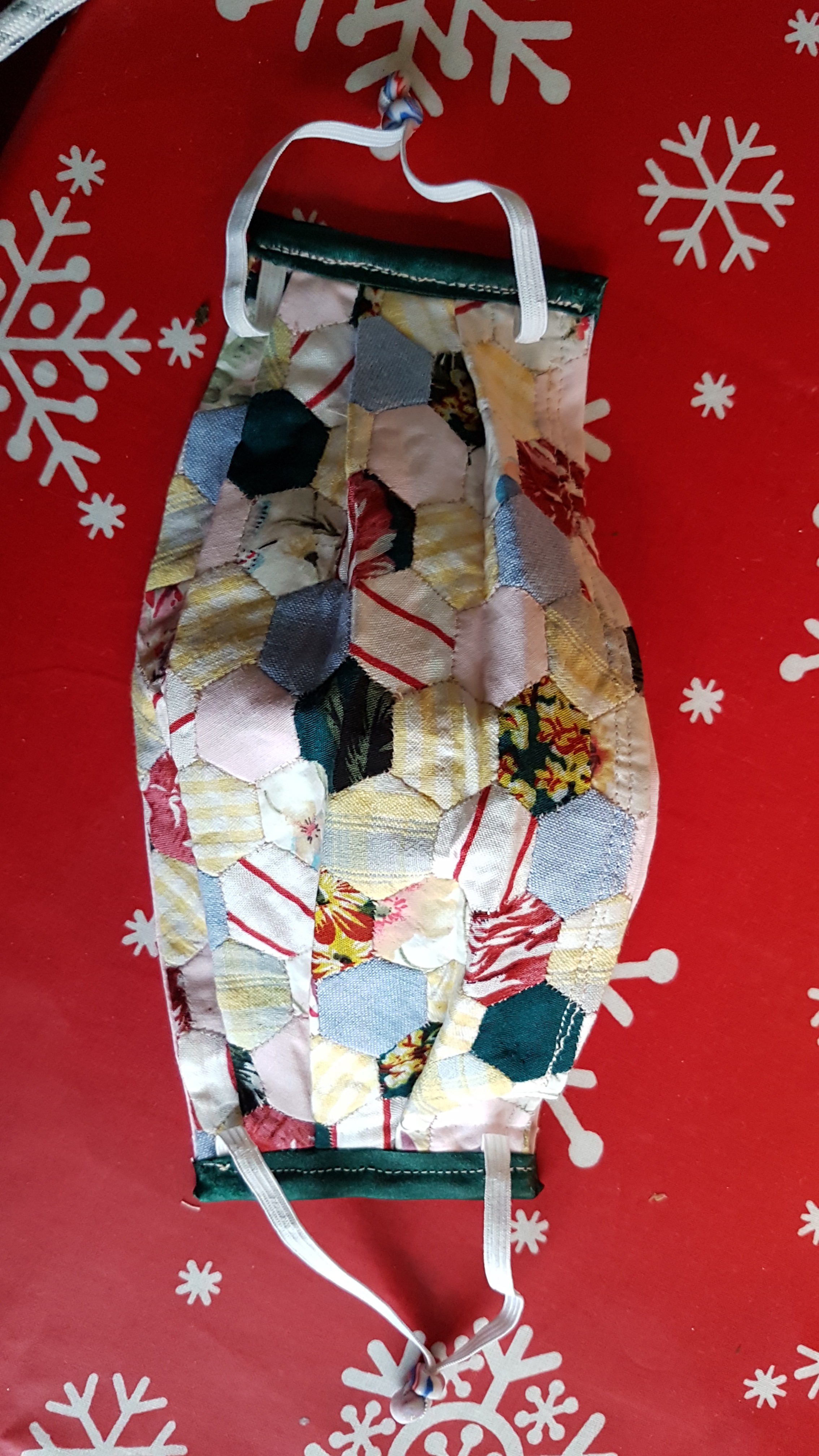 Claire took up cross stitch and sewed a variety of designs including this NHS Rainbow panel.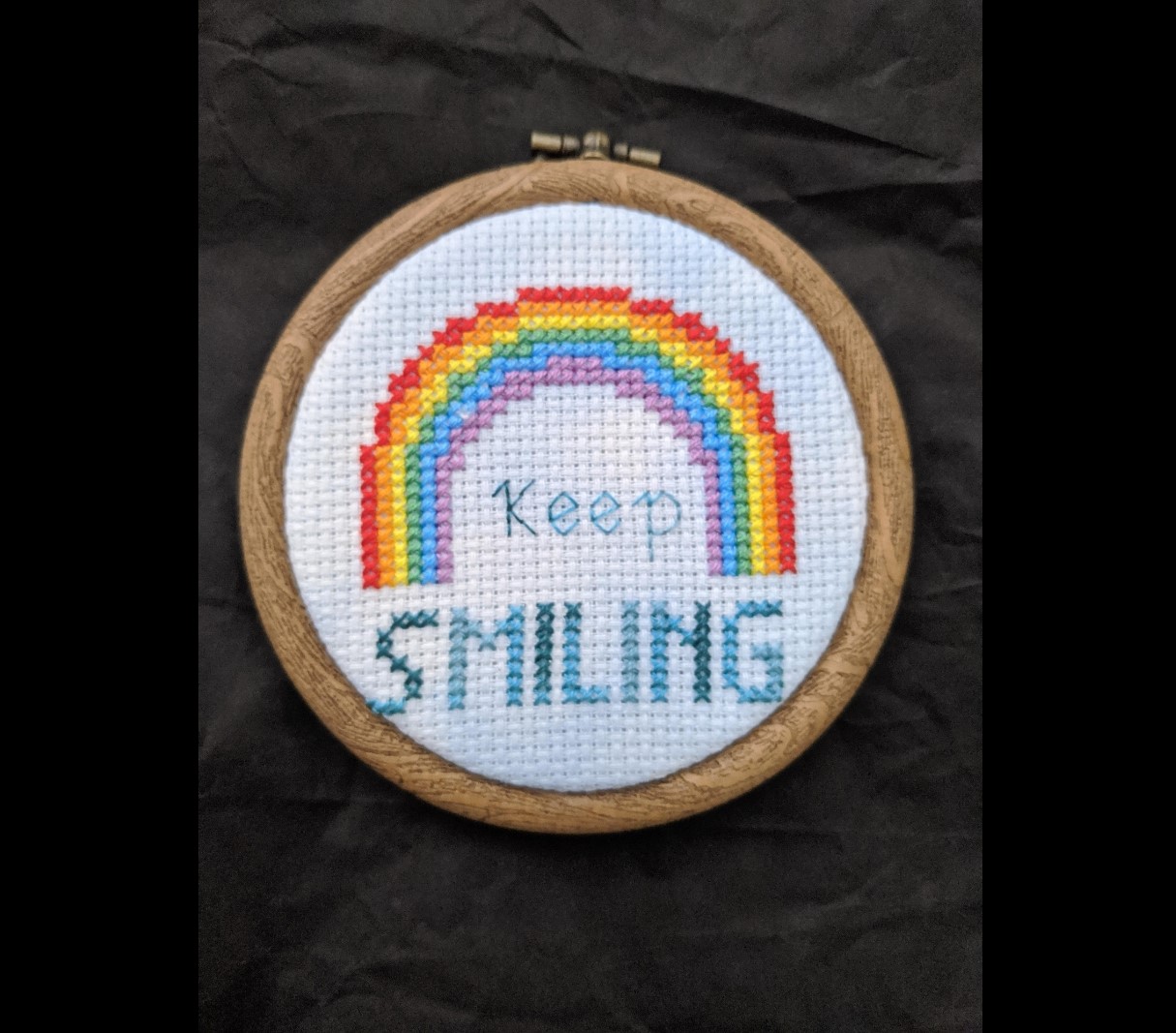 Black Sheep are keeping virtual rehearsals fun and sociable and as a result of items such as Show and Tell, we are probably finding out more about each other than we ever would if we were stood on the risers so every cloud has a silver lining!

Thank you everyone for your continued contributions.
Sue Davis.